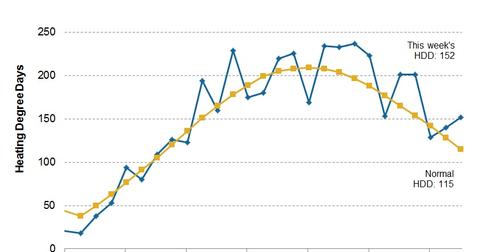 Correlation between weather and propane demand
By Keisha Bandz

Updated
Weather conditions have a significant impact on demand for propane as the volume of propane used is affected by the severity of the winter weather which may vary substantially from year to year. A warmer-than-normal temperatures will result in reduced propane usage, while a colder-than-normal temperatures will result in greater usage.
This winter's weather has been far colder than last year, and colder than normal. The below graph shows weekly heating degree days for this winter as compared to a normal winter. Note that higher heating degree days means colder weather, and lower heating degree days means warmer weather. To learn further about how recent weather has affected propane demand see  Cold weather at the end of March supports natural gas demand).
Article continues below advertisement
Colder weather is positive for the margins of propane distributors, such as APU, SPH, and FGP. The below graphs display the correlation between heating degree days and EBITDA (earnings before interest, tax, depreciation, and amortization) margins for Ferrellgas Partners for the past seven years of heating seasons. (Note: EBITDA margins for companies are for the full fiscal year—not only the heating season. Propane companies generate the greatest proportion of EBITDA during the heating season.)
Weather fluctuations are a notable data point for holders of propane distributers, such as FGP, Suburban Propane Partners (SPH), and AmeriGas Partners (APU) and note that FGP comprises  a portion of the Yorkville High Income MLP ETF (YMLP).
In the recently released 2Q14 results, FGP declared higher-than-expected retail volumes and margins due to weather that was 18% colder year-over-year and 6% colder than normal.
Other factors affecting FGP's operations include Propane prices. Read on to know how propane prices affect demand for propane