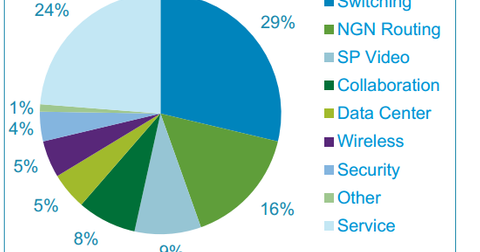 Cisco's results reveal its struggles in the emerging markets
By Samantha Nielson

Updated
The performance so far
Despite revenue and EPS meeting street expectations, Cisco's fiscal second quarter revenue fell 8% to $11.2 billion while net income declined 55% to $1.4 billion or $0.27 per share. Gross profit margins were 53%, down from 61% a year ago. The net income included a pretax charge of $655 million related to the expected remediation cost of issues with memory components in certain products sold in prior fiscal years. In the prior fiscal first quarter 2014, revenue rose slightly by 1.8% to $12.1 billion, while net income was $2.0 billion, or $0.37 per share. Shares plunged in November after Cisco issued a bleak outlook for the second quarter 2014 on the back of emerging market weakness and cautious enterprise technology spending in its developed markets. Cisco's fiscal first quarter 2014 earnings were impacted by emerging market "challenges" and the U.S. government shutdown.
Analysts believe growth at the company has been declining with the company predicting a fall in revenue in the fiscal third quarter as well and CEO Chambers reiterating "its plan to return to growth over the next several quarters."
Article continues below advertisement
Cisco's emerging market woes continued from the previous quarter with orders falling 3% year-over-year. In the fiscal first quarter 2014, the networking giant saw a sharp decline in orders in China, Brazil, Mexico, India, and Russia. Cisco's revenue in China declined 18% in the the fiscal first quarter 2014. On being asked by an analyst whether the decline was an impact of the NSA snooping scandal, Cisco's management said on the earnings call that "China continued to decline as we and our peers worked through the challenging political dynamic in that country," plus, the scandal is "not having a material impact but it's certainly causing people to stop and then rethink decisions."
Cisco is losing market shares in China to China-based Huawei Technologies, the world's second largest network equipment supplier, and ZTE. News reports noted that Cisco might also be seeing retaliation of a U.S. ban on the sale of Chinese-made equipment to wireless carriers over security concerns. Although IBM (IBM), Hewlett-Packard (HPQ), and Microsoft (MSFT) saw a fall in sales in China in the wake of the NSA scandal, Juniper (JNPR) said it saw no impact.
Service provider orders also declined 12% year-over-year in the second quarter after a 13% decline in the fiscal first quarter of 2014. Cisco's service provider customers include regional, national, and international wireline carriers, as well as Internet, cable, and wireless providers.
Segment results
Article continues below advertisement
In terms of segments, the company saw an impact from its product transitions in its core business as customers shift to Network Convergence Systems (NCS) 6000, billed as the "Internet of Everything" router, and CRS-X routers. Switching revenue fell 12% year-over-year to $3.27 billion with orders down 6% while NGN routing revenue declined 11% year-over-year to $1.74 billion with orders down 5%. Cisco's NCS router is expected to compete with Juniper's PTX series and Alcatel-Lucent's (ALU) 7950 XRS routers.
According to a recent report by Dell'Oro Group, investment in routers for mobile backhaul networks is expected to primarily drive service provider router market market through 2018. The report said the demand for these routers will push growth in the worldwide service provider router market to almost $9 billion by 2018. Another report from Dell'Oro said Cisco leads the service provider router market followed by Juniper (JNPR), Alcatel-Lucent (ALU), and Huawei.
Article continues below advertisement
IDC said worldwide Ethernet switch market is increasingly diverging into two market segments with different market dynamics—the enterprise campus segment, which includes the network edge that integrates mobility, and the higher growth datacenter segment. Cisco's Ethernet switch (Layer 2/3) market share in the fourth quarter of 2013 held steady from last year at 61.3%, while its market share in the fast-growing 10GbE market segment was 64.0% in the fourth quarter of 2013. Cisco was followed by HP, Juniper, and Alcatel-Lucent.
Cisco's data center business revenue was up 10% year-over-year to $605 million, but below street consensus. The management said booking volumes for Nexus 9000 nearly tripled at the end of its first shipping quarter. In 2013, data center revenue was up 60% year-over-year, with Cisco Unified Computing System (Cisco UCS) growing 63%.
Service provider video orders including the set-top boxes were down 22% in the second quarter to $957 million, while in the previous quarter, video revenues of $987 million declined 14% year-over-year. The company has seen pressure from analysts and investors to exit this unprofitable business, but Cisco said that the decline was due to customers transitioning from set-top to cloud-based delivery models. The unit, which supplies set-tops, DVRs, and other cable hardware, was acquired in 2005 via the $7 billion Scientific Atlanta deal.
Article continues below advertisement
Wireless revenue fell 4% to $511 million in the second quarter after growing 8% in the fiscal first quarter of 2014. In 2013, wireless revenue grew 31%, bolstered by the strength of Cisco's broad portfolio, including the successful integration of the cloud networking company Meraki, which was acquired last year for $1.2 billion. Cisco said Meraki saw 100% year-over-year growth and more than doubled customers, from 4,300 in the previous quarter to 9,600, in the fiscal second quarter of 2014.
Cisco's security business grew 17% to $393 million, boosted by the $2.7 billion Sourcefire acquisition, with network security up 21% and content security up 5%. Security revenue was flat in fiscal 2013 compared with fiscal 2012. Cisco expects the Sourcefire acquisition will enable it to provide continuous and pervasive advanced threat protection across the entire attack continuum and from any device to any cloud. Cisco announced in February that it has added its Advanced Malware Protection (AMP), originally developed by Sourcefire, into its Content Security Portfolio of products, including Web and Email Security Appliances and Cloud Web Security Service.
Article continues below advertisement
Collaboration revenues fell 7% to $881 million, with a decline of 9% year-over-year in unified communications as Cisco was expected to announce a product refresh with high-quality video. The WebEx conferencing business saw a robust quarter and was up 21%, with large enterprise and SMB deals. In 2013, sales of Collaboration products decreased by 6%, or $237 million, primarily due to a decline in sales of Cisco TelePresence Systems and. Lower public sector spending in the U.S., as well as demand weakness in Europe, were significant decline drivers.
A decline in sales of Unified Communications products was primarily due to lower sales of Unified Communications infrastructure products as a result of Cisco's sales emphasis on shifting toward products with recurring revenue streams. According to IDC's Worldwide Enterprise Videoconferencing and Telepresence Qview, Cisco was the leader in enterprise videoconferencing equipment with a 44.3% share of the worldwide market in the fourth quarter of 2013. Cisco's results showed a 2.1% quarter-over-quarter revenue increase, but a -20.8% year-over-year decline in video equipment revenue. Polycom (PLCM) ranked second with a 24.9% share of the worldwide market, while Huawei ranked third. IDC's analysis stated that the macroeconomic situation—including softness in emerging markets, the recession in Europe, and the sequestration in the U.S. (that is, budget cuts)—produced some cautionary IT spending that impacted year-over-year video equipment revenue growth across all the regions in 4Q 2013.
Cisco's service revenue grew by 3% in the first two quarters of 2014. Worldwide technical support services revenue increased by 3%, and worldwide advanced services saw 4% revenue growth. Technical support services revenue grew in its Americas and EMEA segments and declined in the APJC segment. Advanced services revenue grew across all geographic segments, driven by strong growth in subscription revenues. Cisco said its service revenue in the first six months of fiscal 2014 reflected slower growth than usual and was correlated to the fluctuations in product revenue.