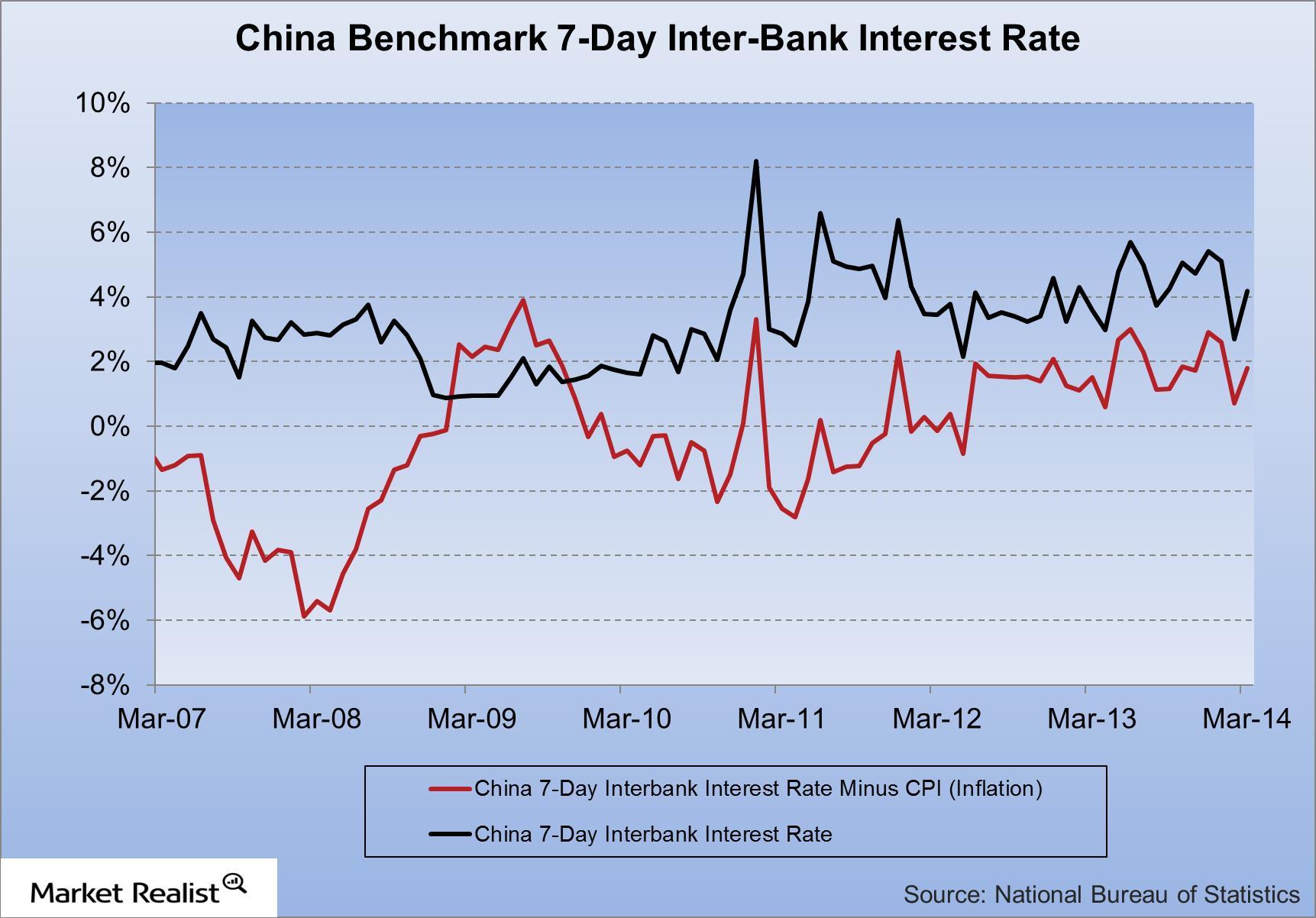 China's soft landing may support banks and Baidu later in 2014
By Marc Wiersum, MBA

Nov. 22 2019, Updated 6:33 a.m. ET
Rates and inflation are tame
The below graph reflects the nominal and inflation-adjusted benchmark interest rate in China—the 7-day inter-bank deposit rate. Since 2008, China has seen real interest rates emerge from the negative territory, back into the positive territory, with nominal rates at around 4.0%, and at closer to 2.0% after inflation adjustment. This would suggest that rates in China are at fairly high, or at least at more normal levels, leaving the China Central Bank with significant leeway to lower rates if required. Given the declining gap between nominal and real interest rates, it would seem that China has cooled inflation, and perhaps cooled speculative investment as well. So far, this has been achieved without crashing the equity market—it has simply gone sideways.
Article continues below advertisement
Overall, the continuance of this trend should provide a supportive base for Chinese equities such as Baidu as the year progresses. However, too much monetary cooling too quickly could be problematic. Given the low valuations on Chinese equities in general, one would hope that much of the inflation cooling effect is already backed into current prices. In other words, as far as China's post-2008 soft landing is concerned, so far, so good. Meanwhile, Google is still performing well as a flagship participant in the post-2008 large cap growth rally in the U.S. Yandex his taken it on the chin in 2014. While the company has been enjoying excellent growth and margins, it would appear that Russia's ambitions in the Ukraine and Crimea have negatively impacted Yandex's pre-2014 momentum.
For a detailed comparative analysis on Google (GOOG) versus Yandex (YNDX) and Baidu (BIDU), read Market Realist's Evaluating Yandex versus other key search engines.
China's Yuan
China couldn't have picked a better time to give up Communism and adopt Capitalism. By pegging its currency to a historically weak U.S. dollar, China had been able to maintain a low domestic price level, and low cost of production, despite gradual yuan appreciation. The euro bought $0.85 in 2002, and bought $1.60 in 2008—practically doubling against the U.S. dollar, and appreciated against the Chinese yuan by around 10% from 2003 to mid 2008. Not pegging to the euro was probably a great idea. Chinese exports have prospered over the past decade, as its currency has remained pegged to a fairly weak dollar, especially vis-a-vis the euro. However, going forward, this may be changing.
Article continues below advertisement
The delicate dance of central banks is about to get more complicated, and after a fairly harmonious synchronization of monetary policy between the U.S. and China Central Banks post-2008, monetary policy between the U.S. and China can get out of step. Should the U.S. Fed taper too hard, too fast, and cool the nascent U.S. recovery too quickly, the U.S. Fed might accidentally step on the foot of the China Central Bank by amplifying the effects of China's current policy of monetary tightening. Plus, Japan has begun loosening monetary policy aggressively since 2013, which is weakening the yen, and providing greater export competition in Asia. Not only the U.S. Fed taper, but also the Bank of Japan easing may provide a cooling effect for China. Should the yen continue to weaken against the Chinese yuan, China's surging yen-denominated export surplus with Japan could slow as the year progresses.
China's s soft landing a success so far
The changes in monetary policy in both the U.S. and China, in conjunction, could reinforce one another and upset the monetary soft landing that the China Central Bank has been able to manage so far. The Chinese economy could get cooler more quickly than expected. Investors may fear an inadvertent excess of monetary tightening in a soft global economy, which might exacerbate the recent stresses in the Chinese banking system, and create a Japan 1990 redux—replete with a collapse of banking stocks, the broader economy, and equity markets. This concern has kept pressure on Chinese stocks since 2012, as reflected in China's iShares FTSE China 25 Index Fund (FXI). Of the top ten holdings of FXI, three are banks, accounting for roughly 22% of total holdings. However, progress is being made, and if global growth levels continue to impress to the upside, China could finally see a long awaited pick up in its languishing equities, and support firms like Baidu. So far, the soft landing has not seen major turbulence in equity markets—simply a protracted period of flat returns.
Asia's equity outlook
The weakening yen and a relatively flat wage growth in Japan has supported Japanese markets, as reflected in Wisdom Tree Japan Hedged (DXJ) and the iShares MSCI Japan (EWJ) ETF's. An aggressive monetary policy in the U.S. has supported the S&P 500 as reflected in the State Street Global Advisors S&P 500 SDPR (SPY), State Street Global Advisors Dow Jones SPDR (DIA), and Blackrock iShares S&P 500 Index (IVV), which have been up nearly 18% over the past year. However, tapering is now in play, and higher rates in the five-year Treasury could cool U.S. valuations going forward. Given China's current financial challenges in the banking system, both the U.S. equity and the Abenomics-driven Japanese equity markets may continue to outpace China's iShares FTSE China 25 Index Fund (FXI) and Korea's iShares MSCI South Korea Capped Index Fund (EWY). However, if U.S. valuations continue to increase over the year, China's valuations should eventually become increasingly compelling. With FXI's key holding, banking flagship Bank of China, trading at 0.84 price to book and a 4.95 price to earnings ratio, one has to wonder how much lower Chinese banks and financials can go.
For an overview of the U.S. macroeconomic recovery, which can support China's export economy, read 2014 US macro outlook: The crack in the debt ceiling.
To know about the history of China's overall growth rate in gross domestic product, read the next part of this series.