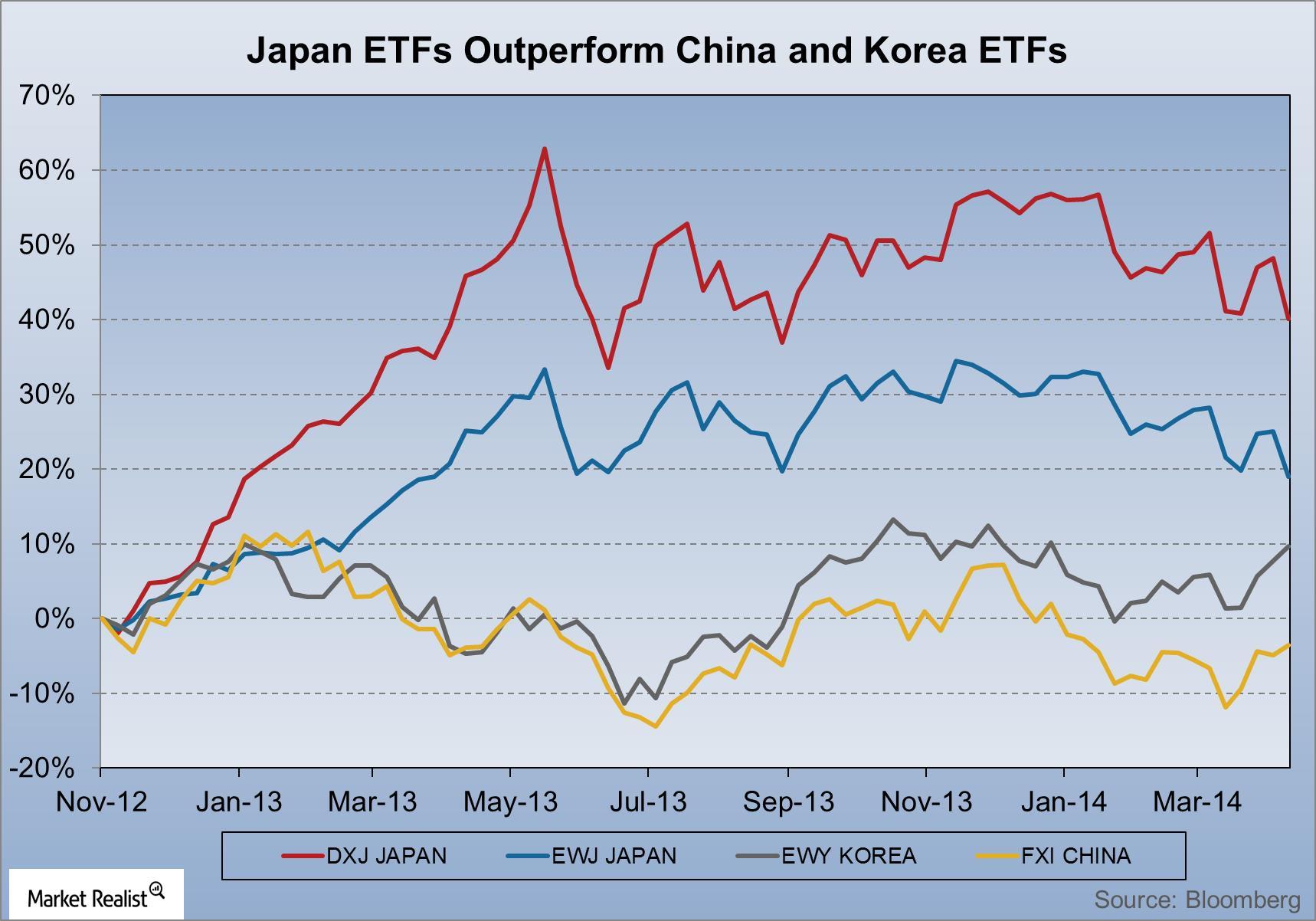 China's large caps: Will the iShares ETF, FXI, rally in 2014?
By Marc Wiersum, MBA

Nov. 22 2019, Updated 6:33 a.m. ET
China's bank-ridden FXI—the best of the worst since 2012?
The below graph reflects the performance of Asian equity ETFs since the election of Japan's new Prime Minister in November 2012. The Japanese ETFs—DXJ and EWJ—performed very well as the currency weakened under new policy initiatives. Meanwhile, both the Korean and Chinese ETFs, EWY and FXI, have been flat, with China still in slightly negative territory and the worst performer to date. Blackrock iShares China Large Cap ETF, FXI, holds China construction bank as its top holding (9.03%), Industrial and Commercial Bank of China as #4 at 7.01% of holdings, #5 Bank of China at 6.17%, and at #9 the Agriculture Bank of China at 4.03%.This article considers the prospects for these main Asian ETFs to break out of the doldrums in 2014. With FXI holding 26% in large cap Chinese banks, we would really need to see some better capacity utilization and producer price index improvement before these shares lead the market higher. Perhaps we have seen enough construction investment and banking activity in China, in the near term. China would appear to be wearing some shoes that are a few sizes too big and thought it should grow into them before long.
China's investment drive the economy
Article continues below advertisement
As pointed out in a related article, capital formation in China—investment—is the main driver of China's economic engine. Investment is financed by banks, and the FXI ETF is heavily invested in banks. As the International Monetary fund pointed out in their World Economic Outlook in January 2014, "In China, the recent rebound highlights that investment remains the key driver in growth dynamics. More progress is required on rebalancing domestic demand from investment to consumption to effectively contain the risks to growth and financial stability from over-investment."
Investment is everything in China
What the IMF is referring to is illustrated in the below graph. China is an investment colossus. Japan's consumption as a percent of GDP is around 61% and in the case of the U.S., around 68%. In the case of China final private consumption comes in around 33%, half of the average U.S. and Japan rate. Notably, as a percent of GDP, China's trade surplus of 10% of GDP in 2008 has declined to 2.0% of GDP currently. At least the capital and current account balance seems well in hand. The investment growth into the 2008 crisis raises eyebrows at the IMF. On the other hand, China is a rapidly growing economy. Given its population and fairly low cost basis, significant investment is only natural, at it is a rapidly growing, young, capitalist economy.
Article continues below advertisement
Economically, it might appear that the central planning of the Chinese government over-invests at times, as the Chinese economy, like a young child, who grows very quickly. Sometimes parents buy shoes a size or two too big for their young children, especially when times are tight. This might appear to be the case in China. There is little doubt that China can grow into what it has invested in so far. However, if the investment is like a shoe that is four or five sizes too big, the economy could trip, and Chinese markets could be a bit clumsy and slow until growth catches up. Given China's growing, though fairly low wages, it will be a while before China's domestic consumption can absorb large-scale production overhang, though consumption growth is just starting to blossom in China post-2012. Perhaps China's 2014 consumption and PPI data will surprise to the upside later in the year, taking the pressure of China's bank shares and assisting FXI in resuming its gains.
Conclusion
While China issues cool interest in Asian equities in general while the U.S. market is on a bull run, it should be remembered that Japan is in a very different situation than China and Korea. The effects of Japan's massive monetary and fiscal stimulus that was applied over the course of 2013 (and is still being reinforced with equal vigor in 2014) has probably not been fully felt in the broad economy in Japan, and Japan's trade deficit with China could shrink. While China has various growth-related issue to mitigate as the year progresses, at least China has managed a soft landing so far. If the U.S. and European Union can get back to trend growth of 2.5% or so in the next year or two, that should be enough to support China's excess capacity and producer price weakness near term. This scenario would be supportive of Chinese equity valuations and Baidu's earnings.
Asia's equity outlook
The weakening yen and a relatively flat wage growth in Japan has supported Japanese markets, as reflected in Wisdom Tree Japan Hedged (DXJ) and the iShares MSCI Japan (EWJ) ETF's. An aggressive monetary policy in the U.S. has supported the S&P 500 as reflected in the State Street Global Advisors S&P 500 SDPR (SPY), State Street Global Advisors Dow Jones SPDR (DIA), and Blackrock iShares S&P 500 Index (IVV), which have been up nearly 18% over the past year. However, tapering is now in play, and higher rates in the five-year Treasury could cool U.S. valuations going forward. Given China's current financial challenges in the banking system, both the U.S. equity and the Abenomics-driven Japanese equity markets may continue to outpace China's iShares FTSE China 25 Index Fund (FXI) and Korea's iShares MSCI South Korea Capped Index Fund (EWY). However, if U.S. valuations continue to increase over the year, China's valuations should eventually become increasingly compelling. With FXI's key holding, banking flagship Bank of China, trading at 0.84 price to book and a 4.95 price to earnings ratio, one has to wonder how much lower Chinese banks and financials can go.