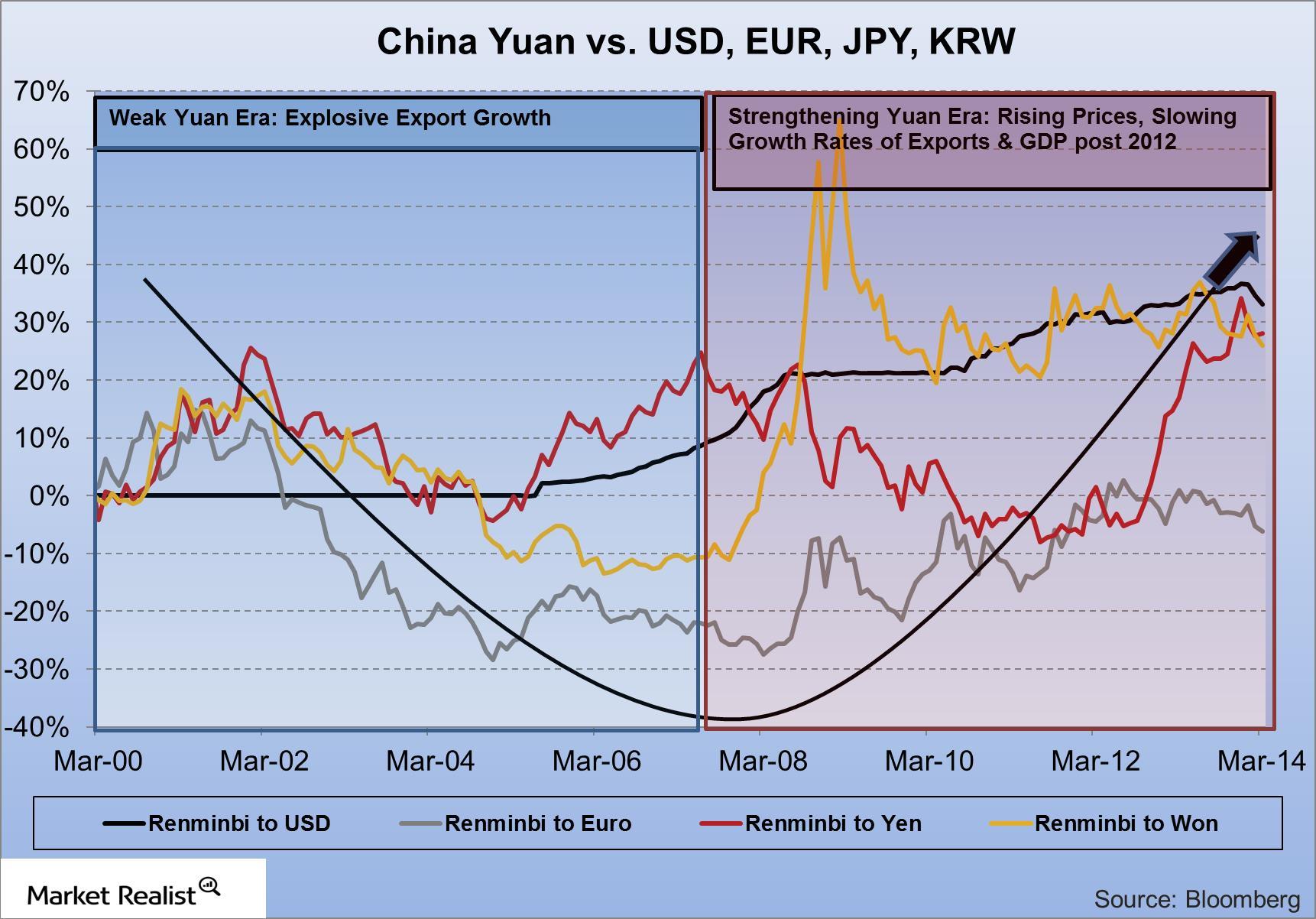 China's dollar peg: Better for Baidu than for the Chinese banks
By Marc Wiersum, MBA

Nov. 22 2019, Updated 6:38 a.m. ET
From hard peg to soft peg
The Chinese yuan has appreciated approximately 3% per year since the launch of exchange rate reform in 2005, appreciating from 8.25 to 6.22 versus the U.S. dollar. The Chinese Central Bank "pegs" its exchange rate to the U.S. dollar, although it has allowed its currency to appreciate against the U.S. dollar more aggressively since 2005, as reflected in the below graph. From a U.S. investor's perspective, this will raise the value of Baidu's, yuan-based revenues versus the dollar as well. For Chinese banks, their exporting borrowers are seeing capacity utilization levels decline as the yuan rises. This trend can continue for some time, and may suggest that Chinese companies like Baidu (BIDU) may be on firmer earnings ground than many Chinese manufacturing firms and banks. This currency trend could support Baidu's earnings value over Google (GOOG) and Russia's Yandex (YNDX).
For a detailed comparative analysis on Google (GOOG) versus Yandex (YNDX) and Baidu (BIDU), read Market Realist's Evaluating Yandex versus other key search engines.
What is the Yuan really worth?
Article continues below advertisement
Economists differ on the extent to which the Chinese yuan might appreciate should this currency "peg" be terminated, and the currency be allowed to "float" and be traded without restriction in the International Money Market. Some economists estimate that the yuan should be 30% stronger than its current level. However, the Chinese yuan appreciated a mere 1.5% in 2012, and remained unchanged since 2013 as current global macroeconomic issues introduce greater uncertainty into Chinese economic growth rates, and in turn, into the historical rates of yuan appreciation. The Chinese trade surplus puts upward pressure on the yuan as Chinese exporters must ultimately sell dollars to buy yuan, which they use to run their factories in China. Any dollars not repatriated to cover costs in China can stay in the U.S., typically in the form of U.S. Treasuries. While the Chinese central bank has "pegged" the yuan-to-dollar exchange rate to mitigate yuan appreciation and nurture Chinese exporters in the past, the Chinese Central Bank has also allowed the yuan to appreciate more aggressively since 2005, as noted in the graph above—the black line.
The Japan yen and Korean won weaken dramatically against the Chinese yuan post-2008
While the above graph reflects the relatively smooth appreciation of the Chinese yuan versus the U.S. dollar, it also reflects, by virtue of its "peg" to the U.S. dollar, the volatility of the dollar and yuan against other currencies. Most notable is the post-2012 yen weakness against the U.S. dollar, which, by virtue of the yuan-to-dollar peg, is also reflected in the yen weakness against the Chinese yuan. The yuan has appreciated rapidly against the Japanese yen, as well as the Korean won, in sync with the U.S. dollar. If this trend continues, China will face intensifying competition from the highly productive Japanese export machine, and perhaps more so from Korea as well. Japan simply needs a weaker currency associated with its high productivity to recover its export strength and return to a more positive level of economic growth. While this will create pressure for Chinese manufacturers and China's financial sector, Baidu should remain less vulnerable to this exchange-related pressure, although sale can soften. Russia's Yandex faces a host of other issues, to include a softening ruble, and a slowing Russian economy.
Foreign exchange and earnings
Article continues below advertisement
By pegging the yuan to the U.S. dollar, and perhaps by managing the yuan from appreciating too rapidly against global currencies, the Chinese economy has benefited from a fairly weak and stable currency. Such a managed and stable currency has been a great asset in attracting foreign direct investment (FDI), building a significant base of domestic capital formation, and in turn, building the modern day Chinese manufacturing machine. However, as we look to the future, we must also note the downside of maintaining a currency peg with the U.S. dollar. While a stable or appreciating currency can attract foreign investment, as it has for China in the past, a strengthening currency may not attract as much investment as it used to when investment opportunities provide lower returns, due to a higher cost base.
Should the dollar continue to strengthen as a result of the expectation of future higher interest rates, this could also put further appreciation pressure on the Chinese yuan, and the historical rates of yuan appreciation against the dollar could be muted for some time. However, as the Chinese yuan will not likely weaken significantly anytime soon, like the Japanese yen, Baidu's dollar-equivalent earnings should remain fairly solid. In the case of Yandex (YNDX), troubles in the Ukraine have led to a 10% drop in the Russian Micex Equity Index, as well as the Russian ruble. It may appear that Yandex's 35% decline this year reflects both political and economic concerns in Russia. However, given Yandex's strong margins and growth, the recent sell off could be overdone. Yandex may have fallen too far, too quickly.
Asia's equity outlook
The weakening yen and a relatively flat wage growth in Japan has supported Japanese markets, as reflected in Wisdom Tree Japan Hedged (DXJ) and the iShares MSCI Japan (EWJ) ETF's. An aggressive monetary policy in the U.S. has supported the S&P 500 as reflected in the State Street Global Advisors S&P 500 SDPR (SPY), State Street Global Advisors Dow Jones SPDR (DIA), and Blackrock iShares S&P 500 Index (IVV), which have been up nearly 18% over the past year. However, tapering is now in play, and higher rates in the five-year Treasury could cool U.S. valuations going forward. Given China's current financial challenges in the banking system, both the U.S. equity and the Abenomics-driven Japanese equity markets may continue to outpace China's iShares FTSE China 25 Index Fund (FXI) and Korea's iShares MSCI South Korea Capped Index Fund (EWY). However, if U.S. valuations continue to increase over the year, China's valuations should eventually become increasingly compelling. With FXI's key holding, banking flagship Bank of China, trading at 0.84 price to book and a 4.95 price to earnings ratio, one has to wonder how much lower Chinese banks and financials can go.
For an overview of the U.S. macroeconomic recovery, which can support China's export economy, read 2014 US macro outlook: The crack in the debt ceiling.
To see how China's wage inflation is cooling with a declining producer price index, please see the next article.