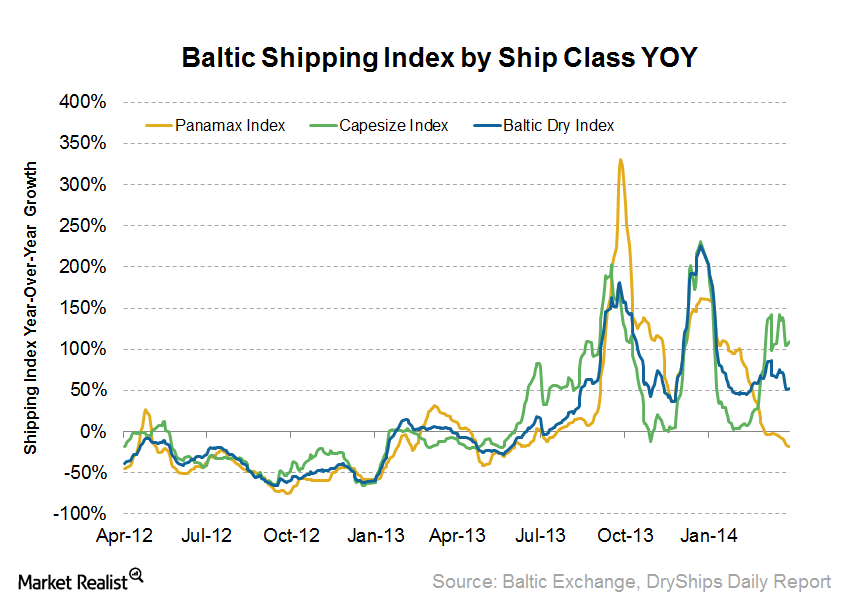 Baltic Dry Index weighed down by Panamax
By Xun Yao Chen

Apr. 2 2014, Updated 12:37 p.m. ET
Baltic Dry Index
Since rising from mid-February 2014, the BDI (Baltic Dry Index) has come back down again. The BDI is a benchmark index used to assess the overall cost of moving dry bulks such as grain, iron ore, grain, nickel ore, and fertilizers across ocean in the spot market. In the spot market, ships are hired for one time trips, rather than for specific period of time.
The Baltic Exchange also publishes index for specific classes as well. The two that are important to companies such as DryShips Inc. (DRYS), Navios Maritime Holdings Inc. (NM), Navios Maritime Partners LP (NMM), and Diana Shipping Inc. (DSX) are the Indexes for Capesize and Panamax vessels. These are large ships used to primarily haul iron ore, coal, and grain–although they are also affected by minor bulks such as nickel ore, bauxite and steel, given some substitutability of different vessel sizes.
Recent trend
Article continues below advertisement
On April 2, 2014, the Baltic Capesize Index stood at 2,418, down 139 points from last Friday. Panamax vessels is also experiencing weakness, dropping 111 from 978 over the same period. On a year-over-year basis, Capesize Index is up 100%, while Panamax vessels are down by 21.61%.  The yearly data is provided to somewhat account for the shipping industry's seasonality.
Implications
The weakness in the Panamax Index suggests high supply or weak demand for the particular class of vessel. As a consequence, it's dragging down the performance of Capesize and the overall Baltic Dry Index, which could put downward pressure on the Guggenheim Shipping ETF (SEA) and dry bulk shipping companies. However, as the yearly BDI remains positive, the long-term trend still remains favorable–unless we're closer to the start of a downward industry cycle.