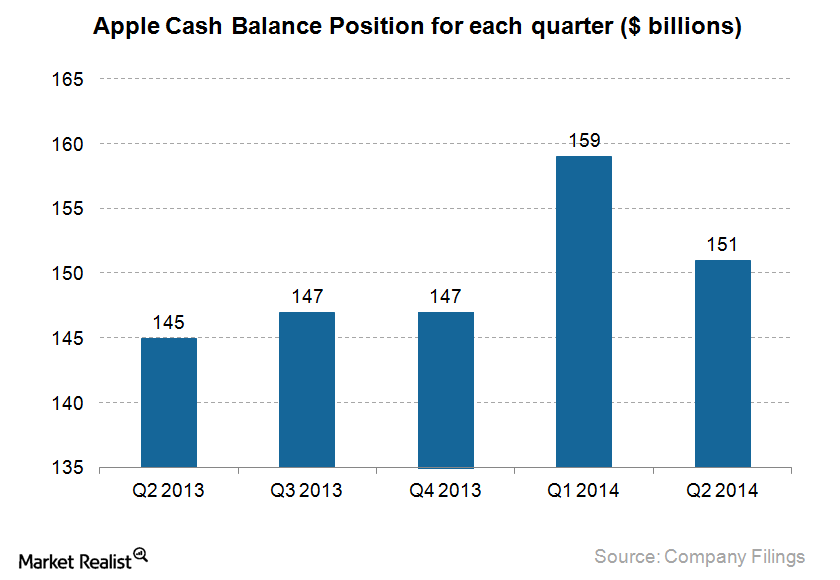 Apple expands its capital return program: Is the stock undervalued?
Apple expands its capital return program to $130 billion
Apple (AAPL) generated about $13.5 billion in cash flow from operations and returned almost $21 billion in cash to shareholders through dividends and share repurchases during the March quarter, bringing the cumulative payments under its capital return program to $66 billion. Apple also announced that it's increasing the size of its program by an addition of $30 billion for a total program size of over $130 billion. As part of the program, the Board increased its share repurchase authorization to $90 billion from $60 billion, and boosted its quarterly dividend by 8% to $3.29 a share. The company expects to complete the capital program by the end of 2015.
Apple continues to hold huge cash balances
Article continues below advertisement
Apple continues to pile up its cash balance position, which is in excess of $150 billion as of now (as shown in the above chart). Apple has often been criticized for not doing enough for shareholders. A few weeks back, activist investor Carl Icahn tweeted on Twitter (TWTR) that Apple wasn't doing enough when it comes to its share buyback program. Icahn himself has about $4 billion invested in Apple and is considered a high-profile investor. Some of his other high-profile investments are a 10% stake in Netflix (NFLX), an Internet video service provider, in 2012 and a 12.5% stake in Hologic (HOLX), a medical device and diagnostics manufacturer, in late 2013.
Apple's expanding its capital return program due to stock being undervalued
During the conference call to announce fiscal Q2 2014 earnings, Apple's CEO Tim Cook mentioned, "We think very deliberately about how much and in which way to return cash to our shareholders. We decided to continue to allocate the vast majority of the incremental capital return to share repurchases because we believe our current stock price does not reflect the full value of the company. The size of the share back increases the signal of the Board and the management team's strong confidence in the future of Apple."
Apple's also increasing dividend to appease shareholders
Article continues below advertisement
Apple also declared a dividend of $3.29 per share, which represents an increase of about 8% in its quarterly dividend. Tim Cook commented, "We understand the importance of dividend increases to many of our investors, and we're increasing the dividend for the second time in less than two years. We are planning for continued annual increases and we're very proud that Apple is one of the largest dividend payers in the world, with annual payments of $11 billion."
Making small acquisitions
For companies, acquisitions are another way of utilizing cash. With cash in excess of $150 billion, Apple can buy many large companies at one go. However, during the last 15 months, Apple has made a number of acquisitions for less than $1 billion each. On the other hand, Google (GOOG) recently made a bigger acquisition, buying Nest for $3.2 billion. Whether Apple could have made use of the cash available to its disposal to make acquisitions is another matter of debate.