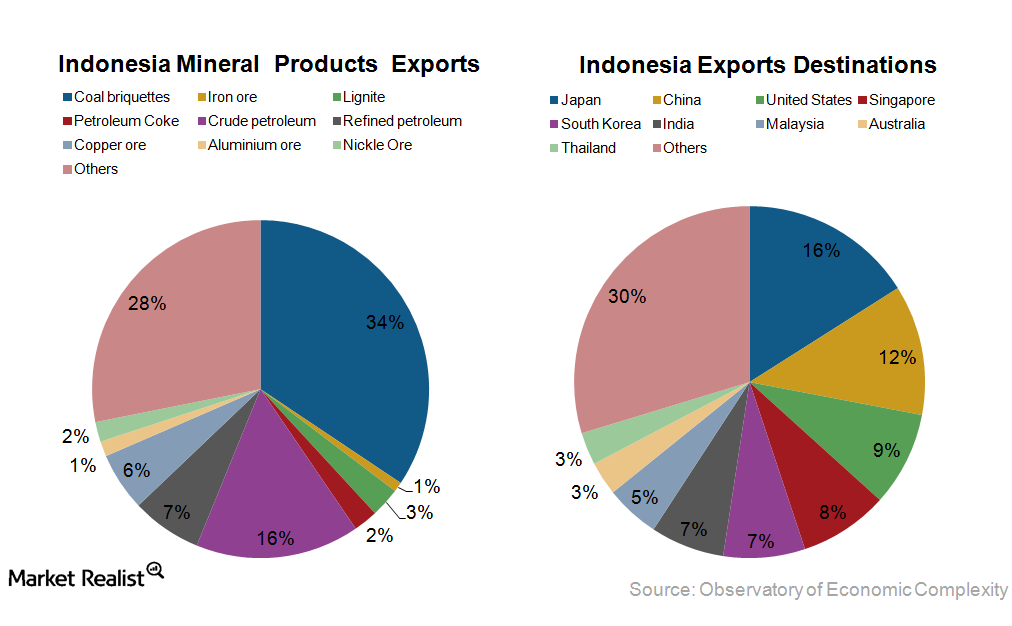 Why Indonesia's nickel ore export ban affects dry bulk shippers
By Yanyu Mao

Nov. 22 2019, Updated 6:28 a.m. ET
Indonesia: An export-led economy
Indonesia is the largest economy in Southeast Asia and also one of the largest emerging markets in the world. As a major producer and exporter of oil, gas, and minerals (including gold, nickel, copper, tin, and thermal coal), Indonesia's exports account for a significant share of Indonesia's GDP. In recent years, exports have been the key driver of economic growth in Indonesia. According to data from the World Bank, Indonesia's exports of goods and services were about 24% of its GDP in 2012, and its main exports are coal briquettes, petroleum gas, palm oil, rubber, and crude petroleum. Indonesia's top trading partners are Japan, China, the U.S., Singapore, and South Korea.
The recent ban on raw ore
Article continues below advertisement
On January 12, 2014, Indonesia—one of the biggest suppliers of natural resources—announced a ban on the exports of unprocessed ore. Government officials explained that the purpose of this ban is to increase the value added by Indonesia's export products, and that they would like miners to build smelters and refinery facilities in this country to help promote domestic economic change. Although Indonesia's government still allows exports of copper, iron ore, lead, and zinc, no relief is offered to nickel and bauxite. This ban could negatively affect Indonesia's exports of nickel and bauxite, causing fluctuations in world nickel prices.
Mixed impact on dry bulk shippers
Since Indonesia supplies 50% of China's nickel ore imports, this ban is quite a big deal. In this series, we'll examine the impact of Indonesia's export ban—particularly its ban of nickel ore—on shipping rates, the Guggenheim Shipping ETF (SEA), and dry bulk shippers such as DryShips Inc. (DRYS), Diana Shipping Inc. (DSX), Navios Maritime Holdings Inc. (NM), and Safe Bulkers Inc. (SB).