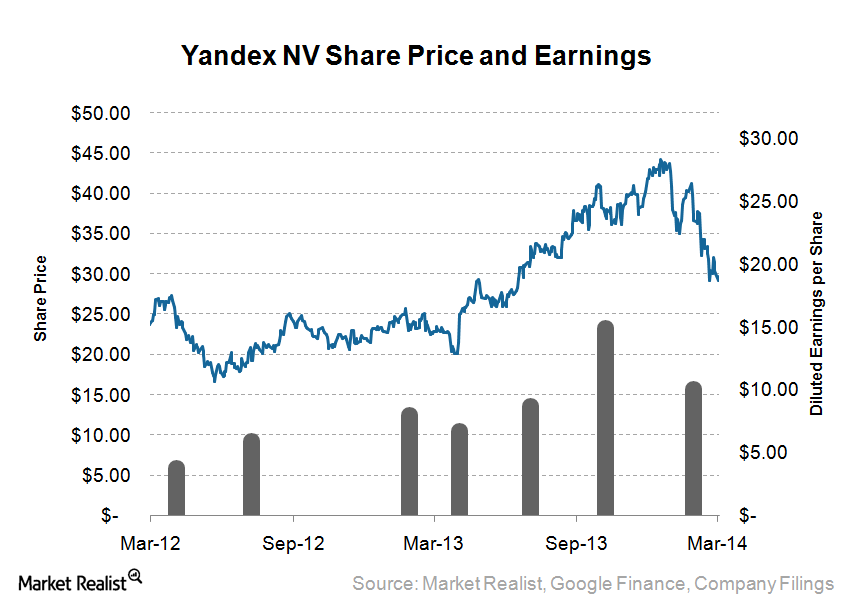 A must-know investor's guide to Russia's web giant, Yandex
By Samantha Nielson

Oct. 29 2019, Updated 8:33 p.m. ET
Yandex
Yandex N.V. (YNDX) is one of the largest Internet companies in Europe, operating Russia's most popular search engine and its most visited website. The stock plunged earlier this month with other Russian stocks, impacted by the Crimean crisis, and it's down almost 32% year-to-date. Yandex derives most of its revenues from online advertising and saw investor concerns over economic sanctions imposed on Russia that may lead to lower spending on advertising. Shares had also taken a hit last month, when Yandex's fourth-quarter profits missed Street estimates.
Article continues below advertisement
The Netherlands-headquartered Yandex is presenting tough competition to Google Inc. (GOOG) in Russia, as search engine yandex.ru is the largest Internet search service provider in Russia, with a 61.9% market share (Liveinternet.ru). Google, which dominates the global Internet search market, has about a 26% market share in Russia. Yandex generated 61.7% of all search traffic in Russia, and its Yandex sites attracted 66 million unique visitors in January 2014. Yandex also operates in Ukraine (30% market share), Kazakhstan, Belarus, and Turkey (4% market share)—regions that use Cyrillic characters.
Similar to Yandex, Baidu (BIDU) is the search engine leader in China. Microsoft (MSFT) and Yahoo (YHOO) too offer search services and generate revenue from search ads.
Yandex believes its mission is to help users solve their everyday problems by building people-centric products and services. The company uses its technical capabilities to develop advanced search technology and information retrieval services. Yandex's search services and many of its other services are location-­based and available in versions tai­lored for mobile and other digital platforms or devices. The company also offers a wide range of specialized search-based, personal, and location­-based services.
Article continues below advertisement
Yandex's popular mobile apps include Yandex.Maps, a mapping service that provides detailed maps of more than 1,300 cities and towns in Russia, Ukraine, Kazakhstan, and Belarus, together with satellite images and hybrid maps, panoramic street views, and driving directions for desktop and mobile users. Yandex.Market is an online retail comparison shopping service that's being revamped to benefit from the growth of e-commerce in Russia. Yandex said on its 4Q 2013 earnings call that its revenue growth was primarily driven by Yandex.Taxi, a taxi ordering service with traffic-based routing. Other mobile applications include Yandex.Search for Mobile, Yandex.Mail, and the online payment service Yandex.Money.
Yandex's history traces back to the 1990s, when its first search technologies were developed by Arkady Volozh and Arkady Borkovsky while working at the company Arkadia. The word "Yandex," which is a portmanteau for "Yet Another Index," was invented by its two principal founders, Ilya Segalovich and Arkady Volozh. The yandex.ru search engine officially launched on September 23, 1997. Yandex went public on the NASDAQ Global Select Market in May 2011 and raised $1.3 billion in the largest technology IPO worldwide that year.