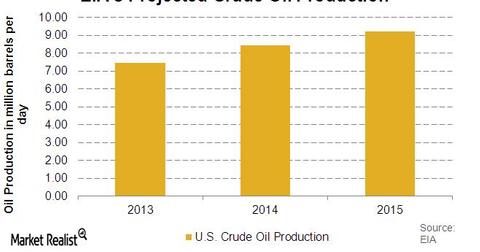 The WTI-Midland spread: The short-term and long-term viewpoints
By Alex Chamberlin

Updated
WTI is the benchmark crude oil (which is priced in Oklahoma), and Midland is the oil priced in the Permian Basin (a high crude production area) in West Texas. The reference price for producers in the Permian region in West Texas is generally WTI crude priced at Midland (in Texas). Domestically, the trading benchmark for oil price is WTI price of Cushing (Oklahoma).
WTI Midland and WTI Cushing usually trade close to par, however, several times over the past two years, the spread has blown out, sometimes as high as ~$20.00 per barrel in late 2012. The spread on March 13 at $10.5 per barrel is the highest for 2014 so far. WTI Midland was trading at similar level to WTI Cushing price at the beginning of the year, but then fell continuously, to $10.50 on February 24, before taking a sharp upturn to $4.75 per barrel on March 3. Since then, the spread has widened out again to $10.00 level. It appears that growing Permian crude supplies have caused Midland to trade at a significant discount.
In the short-term, the spread has blown out, creating lots of volume, and potentially hurting earnings of upstream companies with the production at the Permian Basin. The companies affected are Concho Resources (CXO), Pioneer Natural Resources (PXD), and Laredo Petroleum (LPI).
Article continues below advertisement
On the other hand, the spread widening is potentially creating opportunities for midstream companies with transportation and logistics assets based in that region. So, the price differential between WTI Midland and WTI Cushing benefits companies with assets that can move crude from a low priced region to a higher priced region, like Plains All American (PAA) and Magellan Midstrean (MMP). It also favors companies like Western Refining Logistics (WNRL) that supplies oil to the demand source such as a refinery.
In the longer-term, despite the price fluctuations of Permian crude, the resource is attractive enough for many upstream companies to have long-term plans to continue to grow here. Permian Basin production may vary based on numerous factors including overall crude oil prices and changes in costs of production, while the Gulf Coast refinery's demand for Permian Basin production may change based on relative prices for competing crude oil or changes by refineries to their crude oil processing slates, as well as by overall domestic and international demand for refined products.
At the same time, midstream companies are investing billions of dollars to provide takeaway solutions for Permian crude, which ultimately benefits their shareholders if returns on these capex projects are attractive. Production in the area is projected to grow, which could cause squeezes on short-term takeaway capacity.
EIA expects strong crude oil production growth, primarily concentrated in the Permian regions, Bakken and Eagle Ford, continuing through 2015. Forecast production increases from an estimated 7.5 million barrel per day in 2013 to 8.4 million barrels per day in 2014 and 9.2 million barrels per day in 2015. (Historically, the highest historical annual average U.S. production level was 9.6 million barrels per day in 1970.) However, over the longer-term, sufficient investment from midstream companies will likely serve to balance the crude oil supply/demand dynamics in the Permian.