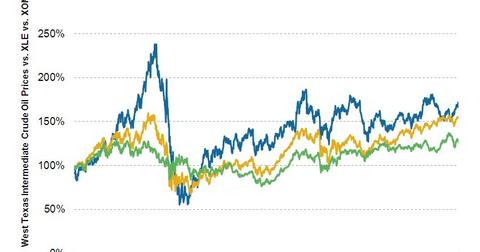 Why WTI crude oil prices dipped slightly on the week
By Alex Chamberlin

Updated
WTI prices
West Texas Intermediate (or WTI) crude oil (priced at Cushing, Oklahoma) is the benchmark crude for U.S. oil. So movements in WTI oil prices are a major driver in the valuation of domestic oil producers. Higher oil prices also incentivize producers to spend more money on drilling, which results in increased revenues for oilfield service companies (companies that provide services such as drilling, fracking, and well servicing). Consequently, WTI prices are an important indicator to watch for investors who own domestic energy stocks.
WTI crude prices were volatile during the week but ultimately finished lower than last week
Article continues below advertisement
Last Friday, WTI crude oil prices finished at $98.89 per barrel, compared to $102.58 per barrel the week prior. Earlier in the week, crude oil prices dipped as the markets began to discount the amount that tensions between Russia and Ukraine would affect world oil supply. Mid-week, a bearish crude oil inventory report also weighed on oil prices. At week's end, oil prices were boosted by indicators that the U.S. economy was strengthening and the International Energy Agency (an intergovernmental agency focused on energy policy) boosted its forecast for world oil demand. Ultimately, prices finished lower than last week, as gains later in the week weren't enough to make up earlier losses.
WTI oil prices are up 3.6% since year-end 2013. This increase in prices was partly due to the market's expectation of greater demand for heating fuels, which are refined products of crude oil, as the cold weather has persisted. Plus, the southern portion of the Keystone XL pipeline was put into service earlier this year, which has helped to transport crude oil away from Cushing (where WTI is priced), toward end markets. The drop in inventories at Cushing has helped to elevate WTI crude prices.
Article continues below advertisement
Note that WTI more represents the price producers receive in the U.S., and there's another benchmark for crude called Brent, which more represents the price producers receive internationally. As the domestic benchmark, WTI prices matter more for domestic companies such as Chesapeake Energy (CHK), Range Resources (RRC), EOG Resources (EOG), and Pioneer Natural Resources (PXD) than for companies with significant international exposure, where Brent prices may be more relevant to watch.
Oil prices have remained relatively high and stable, supporting energy company valuations
For most of the past year, WTI crude oil has been range-bound between ~$85 per barrel and ~$110 per barrel. As we've seen, higher crude prices generally have a positive effect on stocks in the energy sector. The graph below shows WTI crude oil price movements compared to XLE and EOG on a percentage change basis from January 2007, onward. You can see that crude oil, the XLE ETF, and EOG (one of the largest U.S.-concentrated companies in the energy space) have largely moved in the same direction over the past several years.
As the graph above shows, crude oil prices are a major driver in the valuation of many energy investments. Oil prices affect the revenues of oil producers, and consequently, the amount of money oil producers are incentivized to spend on oilfield services.
This past week's trading action in prices was a short-term neutral for the sector. The longer-term stable and elevated oil price has been positive, as crude prices have largely remained above $80 per barrel since late 2010. Investors with domestic energy holdings in names such as CHK, EOG, RRC, or PXD may find it prudent to track the movements of benchmarks such as WTI crude. XLE—the energy sector ETF that tracks companies from the oil, gas and consumable fuels, and energy equipment and services industries—is also affected by crude oil prices.