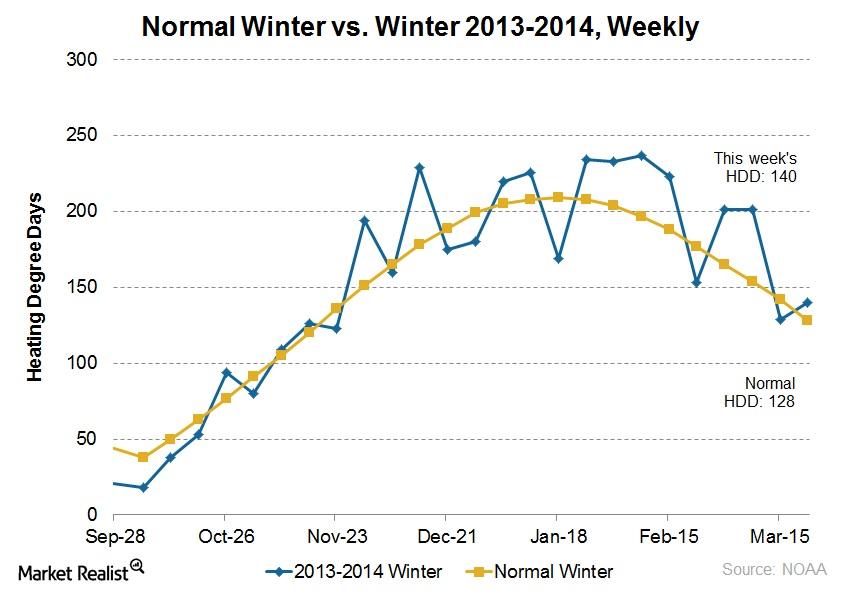 Winter's cold end supports propane demand and stocks like AmeriGas
By Keisha Bandz

Nov. 20 2020, Updated 4:30 p.m. ET
Winter and propane demand
Cold weather is one of the major drivers of propane distributors' earnings, as the fuel is used for home heating in many areas in the U.S. As a result, cold weather is a positive indicator for propane distributors.
Last week saw slightly colder-than-normal weather, a positive for propane companies such as AmeriGas Partners (APU), Ferrellgas Partners (FGP), and Suburban Propane Partners (SPH). Note that this winter to date had weather that was colder than normal, which has boosted propane demand. The weather throughout the winter is an important factor for the earnings of propane distributors.
Heating degree days as temperature indicators
Article continues below advertisement
Heating degree days measure the difference between the outside temperature and room temperature to help calculate demand for the energy needed to heat a given area. Greater heating degree days represent colder weather, while lesser heating degree days represent milder weather. Last week, the average U.S. heating degree day figure was 140, compared to the normal heating degree day figure of 128 for the same period in prior years. The colder-than-normal weather over the past week implies higher demand for propane over that period, which in itself is positive for companies that distribute propane for heating purposes.
Note that for the winter heating season to date (beginning in October), cumulative heating degree days have totaled 3,945, compared to a historical average of 3,747, making for a colder-than-normal winter so far. This is a positive for propane demand.
Propane companies' margins are affected by weather
Colder weather is positive for the margins of propane distributors, such as APU, SPH, and FGP. The below graphs display the correlation between heating degree days and EBITDA (earnings before interest, tax, depreciation, and amortization) margins for Ferrellgas Partners and Suburban Propane for the past seven years of heating seasons. (Note: EBITDA margins for companies are for the full fiscal year—not only the heating season. Propane companies generate the greatest proportion of EBITDA during the heating season.)
Article continues below advertisement
As the graphs above show, the relationship between weather and EBITDA margins for FGP and SPH appears significant over the past seven years. For APU, the relationship has been less significant, though this may have been affected by other factors, such as acquisitions that AmeriGas has made. Overall, it seems for the general propane sector that weather and propane distributor margins are related. Also, the Energy Information Administration (the EIA), a government agency, notes, "Propane supply and demand is subject to changes in domestic production, weather, and inventory levels, among other factors."
So, weather fluctuations are a notable data point for holders of propane companies, such as FGP, SPH, and APU. This winter's warmer-than-normal weather so far has been a negative medium-term catalyst for propane. Lastly, propane companies comprise a portion of the Yorkville High Income MLP ETF (YMLP), an ETF that tracks the Solactive High Income Index, which in turn tracks select MLPs as well as the Global X MLP ETF (MLPA).
To learn more about investing in energy stocks and ETFs, see the Market Realist series Key ways to trade oil and gas price movements on Ukraine tension.