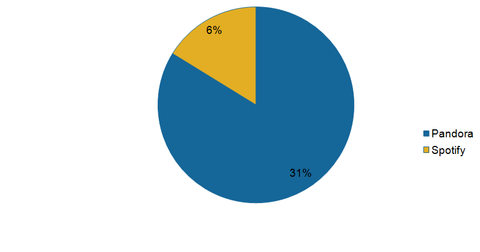 Will Spotify's acquisition of The Echo Nest threaten Pandora?
By Puneet Sikka

Updated
Spotify acquires Echo Nest
Spotify recently announced that it will acquire music intelligence company The Echo Nest for an undisclosed sum. The Echo Nest provides data and music services to media services, social networks and companies such as iHeartRadio, Twitter (TWTR), Rdio, SiriusXM, Spotify, Yahoo (YHOO), Nokia (NOK), Intel (INTC), and Microsoft (MSFT). The financial details of the deal weren't disclosed. The Echo Nest is a self-described "music intelligence company" that does things like determine what recommendations to make to listeners for automatic streaming radio services.
Spotify is a decent competitor to Pandora
Article continues below advertisement
According to a report from Statista, Pandora is by far the leader in the Internet Radio space, with a market share of 31%. Spotify is in the fourth spot, with a market share of 6%. However, Spotify is looking to boost the technology associated with music service through its Echo Nest acquisition. If Spotify is able to improve its recommendation service, the company will benefit from increased user traction and market share gains.
As we discussed in the previous sections of this series, Pandora faces stiff competition from Apple's (AAPL) iTunes Radio and Samsung's Milk service. And now Spotify's acquisition of The Echo Nest means more problems for Pandora.
Spotify to enhance its music service expertise
According to an Echo Nest press release, "This deal will allow Spotify to leverage The Echo Nest's in depth musical understanding and tools for curation to drive music discovery for millions of users around the globe. The addition of The Echo Nest to Spotify will also strengthen Spotify's ability to help brands and partners build amazing music experiences for their audiences."
Daniel Ek, founder and CEO of Spotify, said, "We've been fans of The Echo Nest for a really long time and honored to have their talented team join Spotify." He further said, "At Spotify, we want to get people to listen to more music. We are hyper focused on creating the best user experience and it starts with building the best music intelligence platform on the planet. With The Echo Nest joining Spotify, we will make a big leap forward in our quest to play you the best music possible."
To learn more about investing in Pandora, see the Market Realist series Must-know: Why the shorts had Pandora wrong.