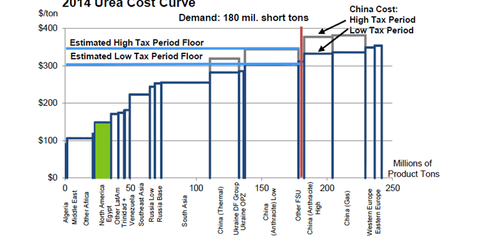 Why are China and coal important for nitrogen fertilizer stocks?
By Xun Yao Chen

Updated
Nitrogen fertilizer prices 
Since nitrogen fertilizer prices are essentially commodities, producers take prices based on industry supply and demand. Higher nitrogen fertilizer prices allow manufacturers to earn more, which is positive on share prices. Conversely, lower fertilizer prices are negative for earnings and share prices. Lower nitrogen fertilizer prices were the key driver behind lower share prices of companies such as Terra Nitrogen Company LP (TNH) and CVR Partners LP (UAN).
Coal and fertilizer prices
Article continues below advertisement
As we mentioned in the first article in this series, China largely uses anthracite and thermal coal to produce nitrogenous fertilizers. Since China's low-cost anthracite-based fertilizer producers are the least expensive producers to supply the last bit of fertilizer demand, they set the global market's floor price.
If prices are lower than the cost to produce and export the product out of the country, retailers and distributions will not be able to purchase an estimated 180 million short tons of supply. Conversely, these suppliers won't risk charging higher prices. Otherwise, more expensive producers in Western Europe and Eastern Europe could take business away.
Lower coal prices
Investors should remember that input prices do change, which would affect global nitrogen fertilizer prices as well. Since 2011, coal prices have fallen, as cheaper natural gas in the United States lured utility firms away from using coal, and global economic activity weakened—including China's economy. Additional coal supply didn't help either. So as coal prices fell, low-cost anthracite-based urea producers in China were willing and able to sell their urea at lower prices.
Global prices were also negatively affected by China's lower export tax. The Chinese government sets a high export tax for its domestic urea producers from November 1 to June 30 to ensure a cheap and adequate supply for its domestic farmers. But taxes are lowered during the off-season—July 1 to October 31.
As a result of these factors, market prices for ammonia fell from ~$750 per short ton at the start of the year to $500 per short ton. Urea and UAN prices also fell throughout most of the year, but they've rebounded since October. U.S. producers also realized lower prices for their products.