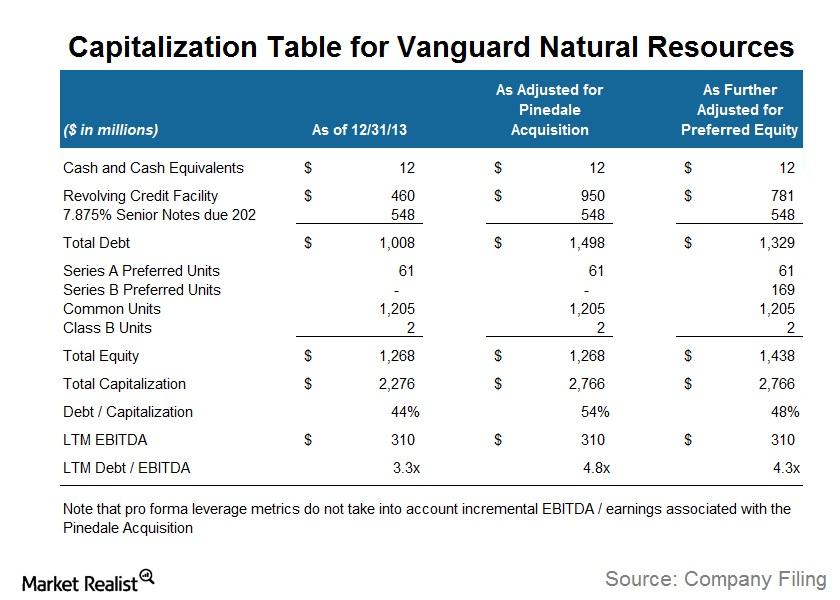 Vanguard Natural Resources raises $169 million in preferred equity
By Ingrid Pan

Nov. 22 2019, Updated 5:53 a.m. ET
Vanguard Natural Resources
Earlier in March, Vanguard Natural Resources (VNR) raised money through the issuance of preferred equity. VNR issued 7 million 7.625% cumulative redeemable perpetual preferred units at a price of $25.00 per unit. Net proceeds after fees and expenses are expected to total $169.2 million. The underwriters also have an option to purchase an additional 1.05 million units. VNR noted that it expects to use proceeds to repay a portion of the amount outstanding under its revolving credit facility (that is, to repay debt). Vanguard had recently closed an acquisition of assets in the Pinedale, in Southwestern Wyoming, which was paid for with $549 million in cash. At the end of February, VNR had $930 million borrowed under its $1.3 billion borrowing base credit facility. Generally, companies don't like to keep a lot borrowed under their credit facilities, as it affects their liquidity, which could adversely affect the company if they need funds immediately.
Article continues below advertisement
VNR noted in its latest presentation that it's committed to maintaining its leverage (debt-to-EBITDA) at ~3.0x, and raising preferred equity is one way to fund growth without upping leverage. The above table shows VNR's capitalization before the acquisition and the preferred equity transaction, and after.
As with any preferred equity, there's some cash outflow expected to pay the distributions. As VNR issued 7 million units at $25 per unit, the par value on the units is $175 million. At the set distribution rate of 7.625%, VNR will have to pay $13.3 million per year. However, distributions aren't like interest in that the company isn't required to pay them out. We discuss the nuances in the next part of this series.
Vanguard Natural Resources (VNR) is part of the Global X Junior MLP ETF (MLPJ). In the prior part of this series, we also discussed another MLP that tapped the preferred equity market, Atlas Pipeline Partners (APL), which is part of the Alerian MLP ETF (AMLP) and the Global X MLP ETF (MLPA).