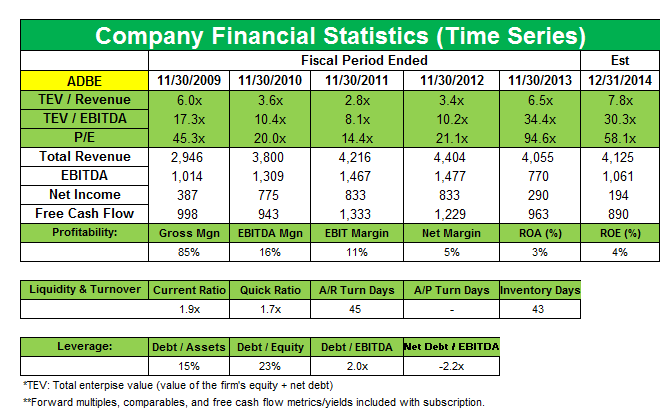 Why did ValueAct Capital decrease its position in Adobe Systems?
By Samantha Nielson

Mar. 21 2014, Published 3:40 p.m. ET
ValueAct Capital and Adobe Systems
ValueAct initiated a new position in Dresser-Rand Group, Inc. (DRC). It sold its stakes in CF Industries (CF), The Mosaic Company (MOS), and Valero Energy Corporation (VLO). The fund increased positions in Allison Transmission Holding (ALSN) and MSCI Inc. (MSCI). It reduced its stake in Adobe Systems Incorporated (ADBE).
ValueAct Capital decreased its stake in Adobe Systems Incorporated (ADBE). The position currently accounts for 12.53% of the fund's fourth quarter portfolio, down from 14.67%. The activist fund, whose holdings include Microsoft (MSFT) had acquired a 5% stake in multimedia specialist Adobe Systems in 2011 and increased its stake to about 6.3%. In December 2012, Adobe announced a "standstill agreement" to add ValueAct partner Kelly Barlow to Adobe's board and limit its purchase of shares in the software maker. Adobe management has "talked frequently" with ValueAct and found "their input on our business and our strategy to be helpful," Adobe said back then.
Article continues below advertisement
Software maker Adobe offers a line of products and services used by creative professionals, marketers, knowledge workers, application developers, enterprises and consumers for creating, managing, delivering, measuring, optimizing, and engaging with compelling content and experiences across multiple operating systems, devices, and media.
Adobe believes it is uniquely positioned to be a leader in Digital Media and Digital Marketing categories. The flagship of its Digital Media business is the Adobe Creative Cloud offering. Creative Cloud is a subscription service that allows members to download and install the latest versions of Adobe's creative products such as Adobe Photoshop, Adobe Illustrator, Adobe Dreamweaver and Adobe InDesign, as well as utilize other tools such as Adobe Acrobat and Adobe Photoshop Lightroom. The Digital Media segment also includes its Document Services business, built around Adobe's Acrobat family of products, the Adobe Reader and a set of integrated cloud-based document services. It expects the Creative Cloud offering, marketed as a subscription model with attractive monthly pricing, to be a catalyst for revenue growth in the coming years. To accelerate the adoption of Creative Cloud, Adobe has focused on migrating existing users of its creative products from perpetual licenses to the subscription offering, as well as driving new customer adoption.
Adobe's Digital Marketing business providing comprehensive solutions that include analytics, social marketing, targeting, media optimization, web experience management and cross-channel campaign management, as well as premium video delivery and monetization. The company delivers these capabilities through its Adobe Marketing Cloud, an integrated offering enabling marketers to measure, personalize and optimize marketing campaigns and digital experiences across channels for optimal marketing performance.
During fiscal 2013, Adobe completed acquisitions of privately held Neolane, a leader in cross-channel campaign management technology for $616.7 million and privately held Behance, an online social media platform to showcase and discover creative work for $111.1 million.
Article continues below advertisement
Adobe posted its 1Q 2014 results and beat street estimates on EPS and revenue. The software maker posted a profit of $47 million, or $0.09 a share, down from $65.1 million, or $0.13 a share, in the same period a year earlier. Revenues were flat year-over-year at $1 billion. More than half of Adobe's 1Q revenue was from recurring sources such as Creative Cloud subscriptions and Adobe Marketing Cloud. Adobe exited 1Q with 1,844,000 paid Creative Cloud subscriptions, an increase of 405,000 when compared to the number of subscriptions as of the end of 4Q fiscal year 2013. Creative Annualized Recurring Revenue (ARR) grew to $987 million, and total Digital Media ARR grew to $1.15 billion. Adobe is planning to revamp its Creative products portfolio and remove legacy CS6 products. It expects these moves to drive focus on Creative Cloud adoption.
Adobe said in its annual SEC filing, "By combining the creativity of our Digital Media business with the science of our Digital Marketing business, we help our customers to more efficiently and effectively make, manage, measure and monetize their content across every channel with an end-to-end workflow and feedback loop."