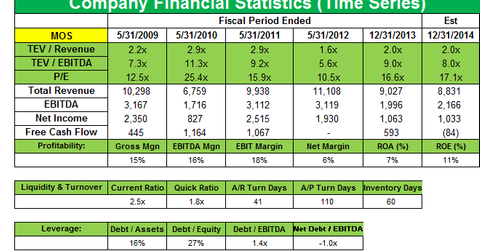 Why ValueAct Capital Management moved out of The Mosaic Company
By Samantha Nielson

Updated
ValueAct Capital and The Mosaic Company

ValueAct initiated a new position in Dresser-Rand Group, Inc. (DRC). It sold its stakes in CF Industries (CF), The Mosaic Company (MOS), and Valero Energy Corporation (VLO). The fund increased positions in Allison Transmission Holding (ALSN) and MSCI Inc. (MSCI). It reduced its stake in Adobe Systems Incorporated (ADBE).
ValueAct Capital liquidated a position in The Mosaic Company (MOS) that accounted for 0.22% of the fund's third quarter portfolio. The Mosaic Company is the world's leading producer and marketer of concentrated phosphate and potash crop nutrients. It is the largest integrated phosphate producer in the world and one of the largest producers and marketers of phosphate-based animal feed ingredients in the U.S. Mosaic is the fourth largest producer of potash in the world. Through its broad product offering, it is a single source supplier of phosphate-and potash-based crop nutrients and animal feed ingredients.
Article continues below advertisement
The company has two reportable business segments: Phosphates and Potash. Mosaic accounted for approximately 12% of estimated global production and 59% of estimated North American production of concentrated phosphate crop nutrients during fiscal 2013, and approximately 13% of estimated global potash production and 42% of estimated North American potash production during fiscal 2013. The company changed its fiscal year to end in December 31 from May 31, starting 2013.
Mosaic's adjusted earnings for 4Q 2013 came in at $0.36, which was 71.65% lower than what the company had announced for fourth quarter 2012 results and below the $0.51 announced for the last quarter. Mosaic's net sales in the fourth quarter of 2013 were $2.2 billion, down from $2.4 billion last year. Net sales in the Phosphates segment were $1.6 billion for the fourth quarter, down 6% compared to last year, as higher sales volumes were more than offset by lower finished product prices. Net sales in the Potash segment totaled $652 million for the fourth quarter, down from $726 million last year, as higher shipment volumes were more than offset by a 30% decline in average realized MOP (muriate of potash) prices.
Market Realist reported on Mosaic's earnings last month and said that realized potash prices continued to fall, to $303 a tonne, driving gross margin down to 21%. Despite poor performance, Mosaic sees a much rosier outlook, pointing out that the business cycle is starting to turn in the industry's favor, as sales volume picked up and fertilizer prices bottomed in December 2013.