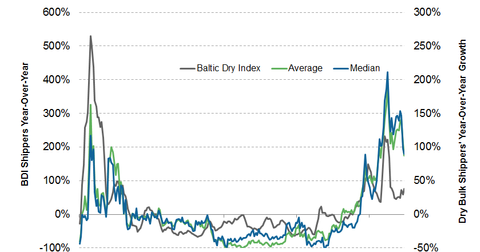 Have dry bulk shippers like Navios gotten ahead of themselves?
By Xun Yao Chen

Updated
Yearly growth in the BDI
We all know the BDI (Baltic Dry Index)—a benchmark for dry bulk shipping rates—has an impact on dry bulk shippers, and is often the release that's most discussed in the market. But we've learned through previous research that week-to-week movements in the Baltic Dry Index don't really have a strong relationship with week-to-week movements in dry bulk shipping stocks like Diana Shipping Inc. (DSX), Star Bulk Carriers Corp. (SBLK), or Navios Maritime Holdings Inc. (NM)—but yearly (year-over-year) growth does.
Since the shipping industry is seasonal, one way to account for seasonality is to use year-over-year growth. So to see whether the dry bulk shipping industry is faring better, perhaps the market looks at year-over-year figures.
Article continues below advertisement
Whether yearly growth should be applied to dry bulk shippers is debatable. Are stock movements seasonal? Some say yes, but we're not sure. The last time we checked, year-over-year growth in dry bulk shippers showed a stronger relationship with the BDI's yearly growth, while positive yearly growth in the BDI pointed to a long-term positive for the dry bulk shipping stocks.
Recent developments
While the Baltic Dry Index increased in February, yearly growth in the BDI hasn't been strong—in part because of a strong rise in March 2013. Although the BDI pulled back this week, so did dry bulk shares, along with the overall market. The S&P 500 didn't fall much, but take a look at QQQ and IWM.
Some may wonder whether dry bulk shippers have gotten ahead of themselves. Perhaps—but recall that yearly growth in the BDI doesn't account for changes in fleets. Predicting how a stock will do in the short term might be as good as analyzing charts. Investors would have to estimate what the BDI would do over the next few days or weeks, compare it to how the BDI has moved, and then also look at what dry bulk shippers as a whole have done for the last year. Plus, we can't forget the impact of the market—and of course China.
If there's one meaningful takeaway from the chart above, we'd say that as long as the yearly growth stays positive, long-term prospects for the Guggenheim Shipping ETF (SEA) and dry bulk shippers remain favorable. Read on to the next part of this series to find out more about the current drivers affecting the BDI and dry bulk shippers.