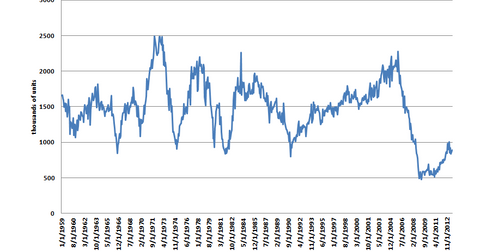 Why strong manufacturing drives homebuilders like Toll Brothers
By Brent Nyitray, CFA, MBA

Mar. 6 2014, Published 2:58 p.m. ET
Implications for homebuilders
Manufacturing activity is a good sign for job growth, which has been the Achilles' heel of this recovery. Although manufacturing isn't the driver of the economy that it used to be, it still matters. Having a level of manufacturing that corresponds to 4.6% GDP growth is certainly a positive.
Some of the comments from survey participants include:
"Cold weather is having a negative impact on our business (garment). Orders are down." (Apparel, Leather & Allied Products)
"Continue to have trouble finding qualified CNC machinists. Desperately trying to hire CNC programmers." (Fabricated Metal Products)
"Higher than normal demand for this time of year." (Transportation Equipment)
"Conservative optimism re-kindling. Steady as it goes." (Machinery)
"Business continues to be stronger. Was at the KBIS/IBS show last week, and the feeling was much the same. Good last year and this year shows great promise." (Furniture & Related Products)
The last comment is particularly relevant to builders. Note the skilled labor shortage in the second comment. We're hearing similar things out of the builders.
Secular story for homebuilders
Article continues below advertisement
Overall increases in business activity and consumption are starting to drive more business for homebuilders, like D.R. Horton (DHI), Lennar (LEN), PulteGroup (PHM), Toll Brothers (TOL). Housing starts have been so low for so long that there's some real pent-up demand that will unleash as the economy improves. This can create a virtuous circle in the economy, as increasing demand raises prices, which reignites the wealth effect and increases consumption. The secular (long-term) story for homebuilders is optimistic. Household formation numbers will be a real wind at their backs. An alternative way to invest in the entire sector would be through the S&P SPDR Homebuilder ETF (XHB).
Could margins contract going forward?
On the other hand, the shortage of skilled workers could negatively affect margins as business expands. Lennar mentioned this concern on its conference call, although it considered it to be a blessing in disguise, as higher employment and higher wages will drive consumer confidence and growth. That said, the report noted that raw material prices are increasing, but homebuilders still reported pricing power and margin expansion. An uptick in raw material pricing or labor costs could negatively affect homebuilders, but so far, margins are generally strong.