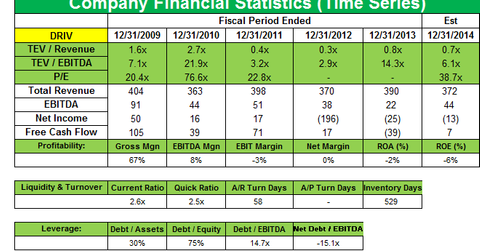 George Soros updates his fund's position in Digital River
By Samantha Nielson

Updated
Soros Fund Management and Digital River
George Soros' Soros Fund Management disclosed earlier in March that it has updated its stake in Digital River (DRIV). Digital River is a leading provider of global commerce-as-a-service (CaaS) solutions.
According to a 13G filing with the SEC, Soros revealed it has 6.97% of Digital River with over 2,476,303 shares. The filing added that the fund's holding consists of 16,050 shares and 2,460,253 shares issuable upon the conversion of 2.00% convertible bonds due November 1, 2030.
Article continues below advertisement
In January 2014, the fund revealed in a filing that it disposed of $5,683,000 worth of 1.25% convertible bonds due 2024 for Digital River. The bonds represented 128,974 shares of Digital River's stock, at a price of $44.06 per share. Soros' fourth quarter filing disclosed that the fund held 2.0% convertible bonds that accounted for around 270,875,000 shares of the company. A Form 4 filing earlier this month with the SEC showed Soros disposed of $153.75 million worth of 2.00% convertible bonds of the company due 2030. The bonds represented 3,053,055 shares of Digital River's stock, at a price of $49.13 per share.
The Minneapolis-based Digital River provides commerce, payments, and marketing solutions. It processed more than $30 billion in online transactions in 2013, connecting business-to-business (B2B) and business-to-consumer (B2C) digital products and cloud service companies as well as branded manufacturers with buyers across multiple devices and channels globally. The company offers its customers a broad range of solutions to quickly and cost-effectively establish, manage, and grow commerce sales channels via Internet-connected devices.
Article continues below advertisement
Digital River provides services that facilitate commerce transactions, drive traffic to customers' online stores, and enable increased conversion rates and sales through the offering of local payment methods. The company's comprehensive platform offers site development and hosting, order management, global payments, cloud-based billing, fraud management, export controls, tax management, physical and digital product fulfillment, multi-lingual customer service, advanced reporting, and strategic marketing services. The company also provides its customers with increased product visibility and sales opportunities through its large network of affiliates.
Digital River cited eMarketer in its annual filing and stated that global B2C e-commerce sales topped $1 trillion in 2012 and 21% over 2011, and that 2013 was projected to reach nearly $1.3 trillion—an 18% increase over 2012. Growth in e-commerce has been driven by increasing use of the Internet via mobile phones and more adoption of broadband technology. As consumers are getting comfortable buying products online, the functionality of online stores is improving, offering a broader assortment of payment options with more promotion alternatives. Businesses are placing more emphasis on their online channel, reaching a larger audience at comparatively lower costs than other methods, and concerns about conflicts between online and traditional sales channels continue to subside.
Article continues below advertisement
The company beat Street estimates and posted revenue of $101.2 million, up 3% year-over-year for the fourth quarter of 2013. Non-GAAP diluted net income from continuing operations was $8.3 million or $0.22 per diluted share, which was at the high end of management's guidance. However, this was down from $12.9 million or $0.32 per diluted share in the fourth quarter of 2012. Digital River's GAAP earnings were break-even.
Management noted that revenue growth was driven by strong holiday sales through its customers commerce channels and the continued strong organic growth of its global payments offerings. CEO David Dobson said, "The strategic transformation framework, which we initiated in 2013, is driving our execution priorities. As a result of the progress we have made, we have increased customer retention, expanded our business with existing customers, and started to win new customers in selected segments."
Article continues below advertisement
Payments revenue was $16.5 million, an increase of 105% year-over-year. Commerce revenue was $84.7 million, down 6%. However, with the strategic transformation initiatives, Digital River said commerce customer retention remained at 93% in the fourth quarter. The company said on its earnings call that it has extended its contracts with Microsoft (MSFT) and PayPal and extended business opportunities with clients such as Adobe (ADBE), Samsung (SSNLF), and Spotify. The company also made technology investments in 2013 to enhance technical capacity, scalability, and performance.
Digital River's primary growth strategies for 2014 are to retain and grow its existing commerce relationships, expand its core Commerce business into new digital products and service verticals, continue to build on early success with branded manufacturers outside of its software core, and continue to aggressively grow its Payments business.
The company's guidance for the first quarter and full year 2014 was disappointing. It expects GAAP EPS ranging from a net loss of $0.15 to a net loss of $0.09 per share for 1Q 2014. For the full year, Digital River expects revenue ranging from $365 to $378 million, representing a revenue decline of 3% to 6% compared to revenue from continuing operations in 2013. It expects Commerce revenues to experience double-digit declines in the first two quarters in terms of comparison, as two of the company's clients had launched major new and successful products in 1Q 2013 that won't be repeated this year, and due to the effects of client attrition. Payments revenue for 2014 is expected to accelerate in the second half, driven by investments in geographic expansion, increases in partner networks, and improved product offerings.
Article continues below advertisement
Digital River's competitors include companies with in-house development of e-commerce capabilities using tools or applications such as Oracle Corporation (ORCL), SAP hybris GmbH, and IBM Corporation (IBM). A report from Forrester Research last year titled The Forrester Wave: B2B Commerce Suites, Q4 2013 said that these vendors have been expanding via partnerships and acquisitions. Oracle made an entry into the e-commerce platform space with its $1 billion acquisition of Art Technology Group Inc. in 2010. SAP AG (SAP) bought privately held e-commerce software vendor Hybris last year. Forrester said IBM leads the "big three" enterprise software companies with its robust B2B commerce. IBM has enhanced its e-commerce offerings with acquisitions such as Unica, Coremetrics, Sterling Commerce, Emptoris, DemandTec, and Xtify.
Other competitors also include providers of outsourced e-commerce solutions, such as eBay, Inc. (EBAY), which acquired GSI Commerce and Magento, and Demandware Inc. (DWRE), which offers enterprise-class cloud-based digital commerce solutions for retailers and branded manufacturers. Demandware believes there's a significant opportunity in the digital commerce market for a company that can offer a comprehensive cloud-based solution designed to address the increasingly complex requirements of retailers and brands seeking to attract and satisfy consumers in the digital world. Digital River's peers also include high-traffic branded websites such as Amazon.com (AMZN) that generate a substantial portion of their revenue from e-commerce.
To learn more about investing in this space, see the Market Realist series Oracle's earnings disappoint on a lack of cloud business growth.