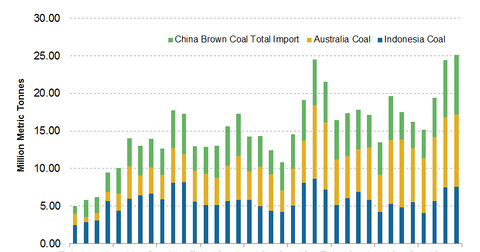 Seaborne coal gluts suggest limited upside for fertilizer stocks
By Xun Yao Chen

Mar. 20 2014, Published 8:00 a.m. ET
Seaborne supply
Seaborne coal supply is another factor that affects coal prices, which in turn affects global urea prices and fertilizer producers such as CF Industries Holdings Inc. (CF), Terra Nitrogen Company LP (TNH), CVR Partners LP (UAN), and Agrium Inc. (AGU). Large increases in seaborne supply, plus large domestic producers' efforts to cut costs and displace high-cost producers, contributed to lower coal prices in 2013.
Cheaper seaborne prices
Article continues below advertisement
High coal prices and profits, as well as the expectation that China's appetite for coal will continue to grow at a fast pace, have encouraged several global miners to expand capacity and production over the last few years. That in turn led to a buildup of excess supply in the seaborne market. The estimated price of coal from Indonesia and Newcastle, Australia, delivered to China has traded at significant discounts to prices in China since 2011, as seaborne suppliers tried to sell their products and protect profits amid weaker coal prices.
China's record imports
In 2013, China imported a record amount of coal, as cheaper seaborne coal lured utility firms away from more imported coal and expensive producers in China were displaced, contributing to China's low coal production growth in 2013 shown earlier. Total coal imports from Australia and Indonesia grew from 181.78 million metric tonnes in 2012 to 216.21 million metric tonnes in 2013—an increase of 18.94%. These two countries made up ~60% of the global seaborne trade in 2012.
This wasn't enough to stop a supply glut from forming, however, which Morgan Stanley estimates to be equal to ~5% of the annual seaborne trade. With additional expansions this year, industry sources and news suggest thermal coal output may rise 3.5% this year. Even if Morgan Stanley expects the surplus to drop to ~4.9 million tons in 2014 from 40.8 million tons, upside for coal and global urea prices is limited.
Additional capacity additions to coking coal (coal used for refining and of similar heating value to anthracite) could add further supply of 4.5% to the annual seaborne trade.