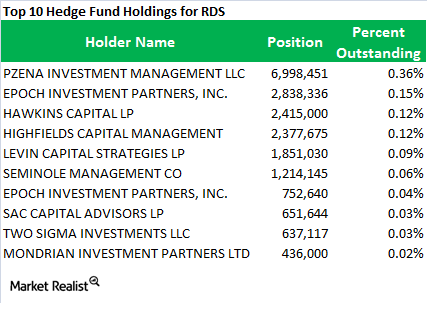 Why Highfields Capital started a new position in Royal Dutch Shell
By Samantha Nielson

Mar. 12 2014, Published 5:00 p.m. ET
Highfields Capital Management and Royal Dutch Shell
Jonathon Jacobson's Highfields Capital Management's top new purchases are Air Products & Chemicals, Inc. (APD), Broadcom Corporation (BRCM), Applied Materials, Inc. (AMAT), Royal Dutch Shell (RDS.A), and JPMorgan Chase (JPM). Highfields also sold out positions in CBS Corporation (CBS) Hess Corporation (HES).
The firm established a new 1.38% position in oil producer Royal Dutch Shell (RDS.A) in its $12.3 billion portfolio last quarter.
Article continues below advertisement
Royal Dutch Shell's profit tumbled 48% in the fourth quarter on exploration expenses and low production. New chief executive Ben van Beurden, who only took over from Peter Voser on January 1, had issued a profit warning earlier in January that fourth-quarter figures would be "significantly lower than recent levels of profitability." Profit, excluding one-time items and inventory changes, declined to $2.9 billion in the fourth quarter from $5.6 billion a year earlier due to rising exploration costs, especially in the Arctic, a 10-year low in refining margins, unprofitable shale investments in North America, and supply disruptions due to fuel theft in Nigeria.
The company plans to sell $15 billion of its assets between 2014 and 2015, restructure its shale operations in North America, and put its Arctic exploration on hold for 2014. Shell has spent around $4.5 billion exploring for oil off the coast of Alaska since 2005, but has faced strong environmental opposition.
In a release, van Beurden said the landscape the company had expected has changed. Factors such as the worsening security situation in Nigeria in 2013, and delays to non-operated projects in several other countries, have altered the outlook. Oil prices remain high globally, but North America natural gas prices and associated crude markers remain low, and the industry refining margins are under pressure. Restructuring and improving profitability in North America Upstream resources plays, and Oil Products world-wide, is a particular focus for the company.
Capital spending will be reduced. In 2013, this totaled $46 billion, including $8 billion of acquisitions. In 2014, Shell expects total capital spending of around $37 billion, including $2 billion of previously announced acquisitions.
Article continues below advertisement
In January, Shell entered into an agreement to sell a 23% interest in the Parque das Conchas (BC-10) project offshore Brazil to Qatar Petroleum International for approximately $1 billion. In February, Shell announced it has reached a binding agreement to sell its Australia downstream businesses (excluding Aviation) to Vitol for a total transaction value of approximately $2.6 billion. The company is also expected to offload maturing upstream assets in the North Sea. The Anglo-Dutch company may put its 23.1% stake in Woodside Petroleum for sale, according to news reports.
Shell has distributed more than $11 billion to shareholders in dividends and repurchased $5 billion of shares in 2013. Reflecting confidence in the potential for free cash flow growth in 2014, the company is expecting the 1Q 2014 dividend to be $0.47 per share, an increase of over 4% compared to 1Q 2013, and total dividends announced for 2014 to be potentially over $11 billion.
Shell, Exxonmobil (XOM), and Chevron (CVX) saw fourth quarter profits drop due to rising capital expenditures, lower production, and weak refining margins.