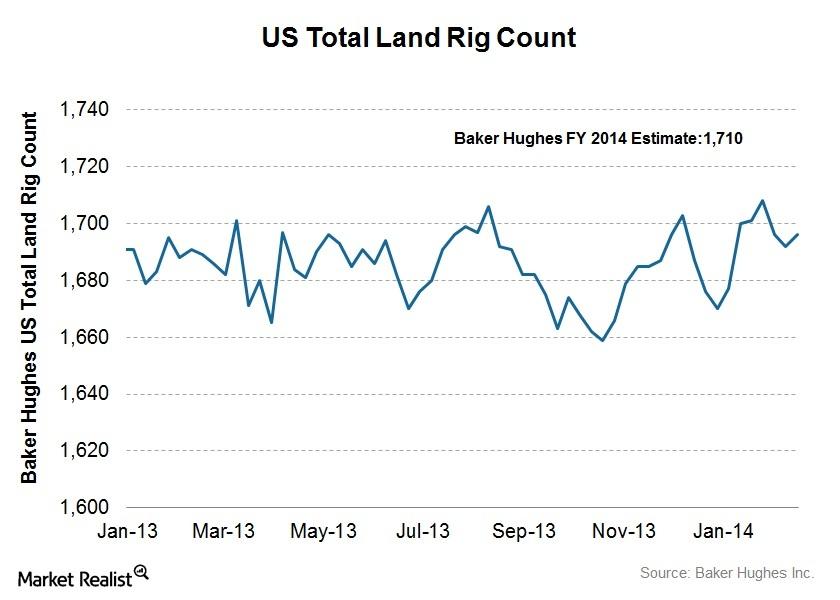 Must-know: Why oil rig counts have risen 2% in 2014 so far
By Ingrid Pan

Dec. 4 2020, Updated 10:53 a.m. ET
U.S. rig count trends depend on how much companies are willing and able to spend on drilling
Rig counts represent how many rigs are actively drilling for hydrocarbons (oil and gas). Baker Hughes, an oilfield services company, reports rig counts weekly. The company notes that rig count trends are "governed by oil company exploration and development spending, which is influenced by the current and expected price of oil and natural gas." So, rig counts can represent how confident oil and gas producers feel about the drilling environment. As rig counts show one measure of oil and gas drilling activity, the figure can also be a useful indicator to gauge the activity levels of oilfield service companies such as Baker Hughes (BHI), Halliburton (HAL), Schlumberger (SLB), and Weatherford (WFT)—all of which are part of the Oil Services HOLDRs ETF (OIH).
Oilfield service companies expect flat onshore U.S. rig counts
Article continues below advertisement
Most major oilfield service companies expect U.S. onshore rig counts to be flat to slightly up in 2014 compared to 2013, although general activity in the U.S. (production and well counts) is expected to be up. Efficiencies such as a switch to pad drilling (drilling more than one well on a single well site, which requires fewer rigs running to drill the same number of wells), and faster well drilling times are driving this trend. So, despite flattish rig counts, overall activity is expected to be slightly higher in 2014.
Baker Hughes noted on its 4Q13 earnings call:
"For U.S. onshore, we anticipate that the rig count will be essentially flat compared to last year, to a final 2014 exit rate of 1,710 rigs composed of approximately 1,350 oil rigs and 360 gas rigs. Despite the flat rig count forecast as a result of continued drilling efficiencies, we anticipate that the U.S. onshore well count will increase 5% compared to last year."
Halliburton stated on its 4Q13 earnings call:
Article continues below advertisement
"We expect the U.S. land rig count to modestly increase in 2014, driven primarily by the continued shift to horizontals in the Permian Basin. The Permian started 2013 with less than 35% of the rig count running horizontal, but we anticipate more than half the rig count will be horizontal by the end of 2014. We also expect to see a continued trend in higher well efficiencies due to increased pad drilling, more 24-hour operations, rig fleet upgrades, and significant investments in drilling and completion technologies."
U.S. rig counts increased slightly last week
U.S. land rig counts totaled 1,696 on February 21, 2014, compared to 1,692 the week prior. Over the medium term, rig counts have been relatively stable over the past year, with total U.S. land rig counts hovering between 1,660 and 1,710 during this period. The beginning of 2014 has seen rig counts rise by 38 (2%), as the seasonal slowdown that usually occurs at year end has passed, and oil and gas–producing companies have begun to gear up to execute 2014 capex plans.