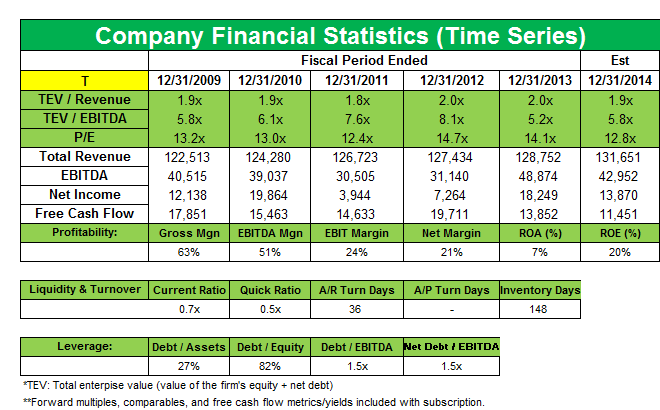 Renaissance Technologies buys a new position in AT&T
By Samantha Nielson

Mar. 24 2014, Published 1:00 p.m. ET
Renaissance Technologies and AT&T
The New York–based quant hedge fund Renaissance Technologies initiated positions in Pfizer Inc. (PFE), AT&T Inc. (T), and Valero Energy Corp. (VLO). The fund sold stakes in General Electric Co. (GE), The Walt Disney Co. (DIS), and Amazon.com Inc. (AMZN).
Renaissance Technologies started a new position in AT&T Inc. (T) that accounts for 0.24% of the fund's $41 billion U.S. long portfolio.
Article continues below advertisement
AT&T provides telecommunications services in the U.S. and globally. Its wireless subsidiaries provide both wireless voice and data communications services across the U.S. and, through roaming agreements, in a substantial number of foreign countries. The wireline subsidiaries provide primarily landline voice and data communication services, AT&T U-verse high-speed broadband, video, and voice services (U-verse) and managed networking to business customers.
AT&T's wireless segment consists of subsidiary, AT&T Mobility, which operates as a wireless provider to both business and consumer subscribers. Its Wireless segment provided approximately 54% of 2013 total segment operating revenues and 76% of its 2013 total segment income. At December 31, 2013, AT&T served more than 110 million wireless subscribers. The company said in its annual filing that as the wireless industry continues to mature, future wireless growth will increasingly depend on AT&T's ability to offer innovative data services and a wireless network that has sufficient spectrum and capacity to support these innovations. The company is facing significant spectrum and capacity constraints on its wireless network in certain markets. To that end, the company said it closed more than 60 deals to acquire spectrum and wireless operations in 2013. AT&T intends to redeploy spectrum currently used for basic 2G services to support more advanced mobile Internet services on its 3G and 4G networks. The company expects to fully discontinue service on its 2G networks by approximately January 1, 2017.
Article continues below advertisement
The Wireline segment provided approximately 46% of 2013 segment operating revenues and 27% of AT&T's 2013 total segment income. The company has divided its wireline services into three product-based categories: data, voice, and other. Revenues from its traditional voice services have been declining, as customers have been switching to wireless or VoIP services provided by the company, cable, or other Internet-based providers. Plus, AT&T said in its filing that continuing weak job growth and business starts have caused wireline customers to terminate their residential or business phone services.
AT&T has responded by offering packages of combined voice and data services, including broadband and video, and the company intends to continue this strategy in 2014. The company also continued to expand its offerings of U-verse high-speed Internet and TV services during 2013. As part of Project Velocity IP (VIP), the company plans to expand its IP-broadband service to approximately 57 million customer locations, including U-verse services, to a total of 33 million customer locations. AT&T expects to substantially complete this initiative in 2015 and 2016.
Article continues below advertisement
AT&T beat analyst estimates and reported strong revenue and EPS growth for 4Q 2013, driven by continued gains in the company's key growth drivers mobile and IP data, U-verse, and strategic business services. Fourth-quarter 2013 net income attributable to AT&T totaled $6.9 billion, or $1.31 per diluted share. Fourth-quarter consolidated revenues were $33.2 billion, up 1.8% versus the year-earlier period. Revenue from wireless operations grew 4.8% year-to-year, to $15.7 billion, while data services revenue was up 16.8%, at $5.7 billion. The company added 1.2 million postpaid smartphones to its network (both upgrades and new subscribers) and gained 809,000 new subscribers, with 566,000 being postpaid customers with a contract. However, these additions were lower than the additions seen in the prior-year quarter. AT&T delivered strong wireless revenue growth and postpaid ARPU gains, continued expansion of its high-value smartphone base, and its lowest-ever fourth-quarter postpaid churn. Total fourth-quarter wireline revenues were $14.7 billion, down 1.4% versus the same quarter the year before and up 0.3% sequentially. Total U-verse subscribers (TV and high-speed Internet) reached 10.7 million in the fourth quarter.
The company, which faces intense competition from Verizon (VZ), Sprint (S), and T-Mobile (TMUS), has seen speculations that it's interested in acquiring Vodafone Group (VOD). AT&T—the second-largest U.S. carrier, behind Verizon Wireless (VZ)—has been interested in expanding to Europe due to sluggish growth and intense competition in the U.S. telecoms space. AT&T chief Executive Randall Stephenson met with European Union telecom officials in January to discuss potential opportunities in the region. Analysts believe AT&T's takeover of Vodafone would give the U.S. telecom company access to major European markets such as the United Kingdom, Germany, Spain, Italy, and Turkey.
In 2014, AT&T expects continued consolidated revenue growth in the 2%-to-3% range, including strength in wireless service and wireline consumer revenues.
In 2013, the company repurchased 366 million shares, or more than 6% of its outstanding shares, for $13.0 billion. The company has a strong dividend yield, at around 5.6%.