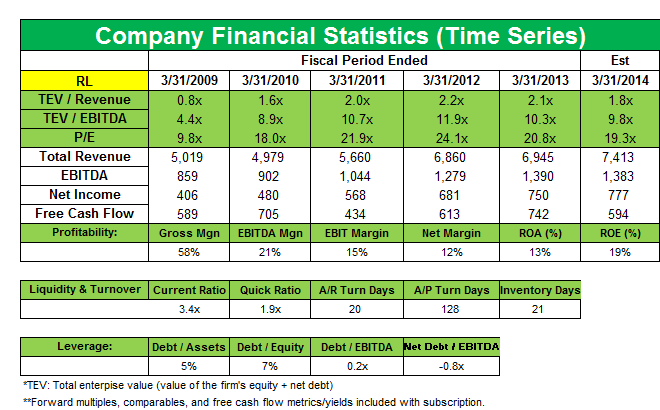 Why did Blue Ridge Capital sell its stake in Ralph Lauren?
Blue Ridge Capital and Ralph Lauren

Blue Ridge Capital initiated new positions in Marathon Petroleum Corp (MPC), Actavis Plc (ACT), Apple Inc. (AAPL), SanDisk Corp. (SNDK), and Cheniere Energy Inc. (LNG). Notable positions that were exited include Ralph Lauren Corp. (RL) and Tenet Healthcare Corp. (THC).
In the fourth quarter, Blue Ridge sold its stake in Ralph Lauren Corp. (RL). Ralph Lauren was a 1.80% position in the fund's 3Q portfolio.
Article continues below advertisement
Ralph Lauren is a global leader in the design, marketing, and distribution of premium lifestyle products, including men's, women's, and children's apparel, accessories, fragrances, and home furnishings. Its brand names include Ralph Lauren Women's Collection, Purple Label, Black Label, Blue Label, Polo, Polo Ralph Lauren, RRL, Ralph Lauren Childrenswear, Lauren by Ralph Lauren, RLX Ralph Lauren, Denim & Supply Ralph Lauren, Ralph Lauren, Chaps, and Club Monaco, among others. Ralph Lauren ended the third quarter of fiscal 2014 with 435 directly operated stores, comprising 136 Ralph Lauren stores, 63 Club Monaco stores, and 236 Polo factory stores.
The company's recent 3Q 2014 results beat analyst expectations. Net revenues rose 9% to $2.0 billion. EPS increased 11% year-over-year to $2.57 per diluted share. The company's 2Q 2014 net income had fallen 4% last year, impacted by the stronger dollar and higher expenses. Ralph Lauren's Wholesale segment sales grew 14% to $840 million due to strong momentum in core North American merchandise categories, the contribution from the newly transitioned Chaps menswear operations, and improved trends in Europe. Retail sales rose 6% to $1.1 billion in the third quarter, reflecting the incremental contribution from new stores, including newly transitioned operations in Australia and New Zealand and comparable store sales growth. Licensing revenues of $45 million in the third quarter were 12% down, as higher licensing revenues for Ralph Lauren products were more than offset by lower Chaps and Australia and New Zealand licensing revenues due to recent license take-backs.
Ralph Lauren's gross profit margin of 58.2% for 3Q 2014 was 110 basis points lower than the comparable period the year prior, primarily due to the mixed impact from the integration of the Chaps menswear operations and unfavorable foreign currency dynamics.
Article continues below advertisement
The company said in its 10Q filing that although the global economy has shown signs of improvement, expectations of slow growth reflect sustained uncertainty. The global economic environment continues to negatively impact consumer confidence, which in turn influences the level of spending on discretionary items. Consumer retail traffic to stores remains relatively weak and inconsistent, which has led to a more promotional environment due to increased competition and a desire to offset traffic declines with increased levels of conversion. Some of Ralph Lauren's retail operations have experienced similar dynamics, which vary across the geographic regions and businesses in which it operates.
Management said that despite the challenging operating environment, the company saw strong international and e-commerce growth, which is a clear demonstration that its sustained investment in the business is paying off. The company added, "We intend to maximize these competitive advantages as we continue to make prudent investments in emerging merchandise categories and regions, in new stores, e-commerce platforms, and in our infrastructure."