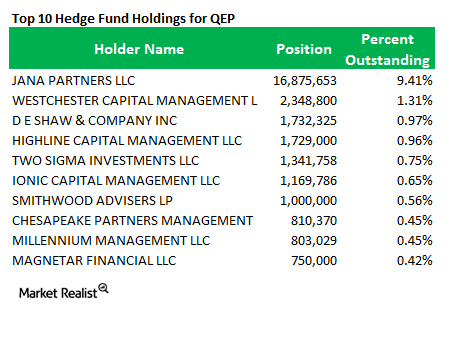 Why does QEP Resources face activist pressure from JANA?
By Samantha Nielson

Nov. 20 2020, Updated 3:26 p.m. ET
JANA Partners increased its position in QEP Resources (QEP) to 5.34% from 2.80% last quarter. The stake in QEP Resources was increased last month but trimmed to 9.4% recently. QEP is a natural gas and crude oil exploration and production company.
QEP announced at the end of last month that after a significant review the board approved the spinoff of its midstream business, QEP Field Services Company, and authorized a $500 million share repurchase program. QEP also plans to sell non-core E&P assets located in the Midcontinent during the first half of 2014. QEP recently announced the appointment of energy industry veteran William L. Thacker as an independent director on its board to assist in the separation of its field-services business into a stand-alone company. QEP also announced that it has reached an agreement with JANA Partners to vote in favor of QEP's nominees at its 2014 Annual Meeting of Stockholders. JANA Partners' Barry Rosenstein said, "For more than a year, we have worked collaboratively with the QEP Board and management team in connection with their execution of various steps to deliver value to QEP shareholders."
Article continues below advertisement
The investment thesis was outlined in JANA's year end letter to investors. JANA said, "In December, management announced their intention to separate the Field Services business through a merger, sale or tax free spin. We believe there are numerous interested parties in various potential transactions and that the separation will unlock value for shareholders as the embedded valuation of Field Services within QEP is well below midstream peers. Immediately on the heels of this exciting announcement, management announced a $950 million acquisition of about 26,500 net acres in the Permian basin in order to address a perceived oil "inventory" problem that CEO Chuck Stanley avers is the cause of the persistent valuation discount in QEP's shares. We were dismayed by the acquisition announcement, made at a lofty price in a competitive auction, in a basin where QEP has no operations or proven track record. Valuations of E&P companies are driven by returns on invested capital, not arbitrary metrics like years of drilling inventory. That is why QEP's market capitalization dropped by about $720 million following the acquisition announcement. We used the pull back to substantially increase our position. There are easy remedies to get QEP back on track and to address the capital allocation and execution issues that have become obvious problems over the last several quarters, and we believe shareholders would be highly receptive to a change in direction."
QEP said net loss doubled in 4Q 2013 to $52.0 million, or $0.29 per diluted share, from a net loss of $23.1 million, or $0.13 per diluted share, in the year-ago quarter. Revenue rose 2% to $715.5 million, missing analyst estimates. QEP saw a 21% decline in natural gas production due to severe winter weather in North America. The company also expects a fall in full-year production to 283–307 billion cubic feet equivalent.
QEP Resources (QEP) is in the midst of shifting from a predominately natural gas–weighted company to becoming "oilier." One major step in doing so has been a focus on the oily Bakken/Williston region. Continue reading further on this in A must-know overview of the Bakken Shale oil play.