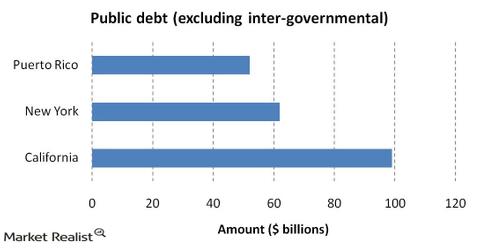 How will a Puerto Rican default affect the municipal bond market?
By Surbhi Jain

Updated
Puerto Rico's $70 billion in public debt, which was recently downgraded to junk level by S&P, is soon going to come down heavily on the $3.7 trillion U.S. municipal bond market. Puerto Rico is the third largest municipal bond issuer in the U.S., after California and New York. It even dwarfs the debt that Detroit had when it filed for bankruptcy; but, being a commonwealth, Puerto Rico cannot declare bankruptcy.
The popularity of its debt comes from the fact that its bonds are free from all State, Federal, and local taxes, which makes them a very attractive investment for U.S. investors with a thirst for yield. Wealthy bondholders in high-income tax states like New York and California earn more yield by investing in this tax-exempt debt than they could if they purchased the bonds of other states.
Article continues below advertisement
With the low interest rate environment prevailing and the quantitative easing measures taken by the Fed in U.S. in the recent years, American investors have been drawn to the Puerto Rican debt, which bears a very attractive yield vis-à-vis the Treasuries. However, little did the investors realize that in pursuit of better yields, they had been increasing their exposure to credit risk. This does remind us of a time back in 2007, when mortgage collateralized debt obligations (or CDOs) had become the flavor of the season. Investors invested heavily in these toxic sub-prime mortgage CDOs, only to repent later when the home loan market came down heavily, and their investments lost value.
Many municipal bond single-state mutual funds are able to take advantage of this tax-exempt status and invest in Puerto Rico's bonds. For instance, a mutual fund that is nominally invested only in California bonds is allowed to own Puerto Rico bonds as well, but not bonds from Texas or New York. Surprisingly, of all the U.S. Municipal bond funds, a staggering 70% of them are lending money to Puerto Rico, leaving millions of U.S. investors and a large portion of brokerage accounts exposed to this fraught little island.
Article continues below advertisement
So, with outstanding obligations to the tune of $70 billion, Puerto Rico could have a considerable impact on the $3.7 trillion U.S. municipal bond market. Also, if the S&P rating downgrade is followed by similar moves by rating agencies Moody's or Fitch, Puerto Rico could be forced to put up cash to get out of derivative contracts and other financing deals that might be terminated by the change in its creditworthiness.
A Puerto Rico default would have negative market implications. It would reprice the entire $3.7 trillion U.S. Municipal bond market, costing the U.S. states and counties billions in additional interest rate charges. Also, iInvestor confidence, once lost, will be difficult to regain.
The decline or recovery of a municipality is directly reflected in the performance of funds that are invested into it. The iShares National AMT-Free Muni Bond ETF (MUB) tracks the performance of the investment grade segment of the U.S. municipal bond market through its underlying index. One may also want to compare the performance of the municipal funds vis-à-vis corporate bond funds like the iShares iBoxx $ Investment Grade Corporate Bond ETF (LQD), which tracks the performance of 600 highly liquid investment grade corporate bonds, including General Electric (GE), Verizon Communications (VZ), and Apple (AAPL).