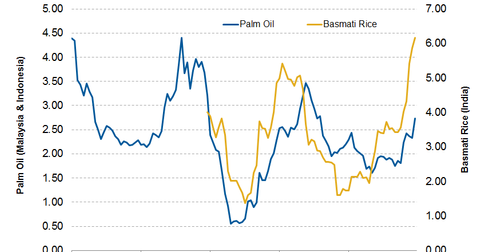 Potash affordability for palm oil farmers rebounds from 2013 lows
By Xun Yao Chen

Mar. 27 2014, Published 8:00 a.m. ET
South and Southeast Asia
Outside of Brazil, the United States, and China, there are three key countries and two major crops that are important to potash: Indonesia, Malaysia, and India. Although Indonesia and Malaysia use less potash compared to India, they're still significant for Intrepid Potash Inc. (IPI), Sociedad Quimica y Minera de Chile ADR (SQM), Potash Corp. (POT), Mosaic Co. (MOS), and the VanEck Vectors Agribusiness ETF (MOO).
Palm oil
Article continues below advertisement
In Indonesia and Malaysia, the majority of potash is used for palm oil, which is used around the world for cooking and fuel. Although farmers in Indonesia might be able to increase their rice yields by using more potash, we've yet to see that happen. On average, the production of palm oil (the most-used cooking oil in the world) uses more than ~70% of these countries' total potash applications.
Potash is neither cheap nor expensive on a historical basis to palm oil farmers, assuming subsidies haven't changed. But note that the affordability of palm oil bottomed in 2013. Affordability fell throughout 2011 and 2012, as demand for vegetable oils for biodiesel cooled along with the global economy. Since then, palm oil prices stabilized along with the global economy.
Improved demand and supply tensions
We could attribute the recent increase in palm oil affordability to an improved global economy. But the rise was also propelled by concerns that droughts in Brazil and Southeast Asia would curtail supply. Tension in Ukraine, a key agriculture exporter, also pushed up global crop prices overall, including palm oil. Should crop prices move higher, affordability would rise, and potash producers could benefit from higher potash prices or consumption.
Short-term pull-back?
Lately, palm oil prices have fallen, as several traders said the recent run-up in palm oil prices was overdone. Imports from China were quite weak, alternative oil prices have fallen, and weather conditions appear to have moderated a bit. If China slows down further, we could see commodity prices fall, including palm oil prices. Yet, given where we are in affordability, potash consumption or prices may not fall as much. This may mean fertilizer prices aren't going to rise further, but the trend is your friend until you see a reversing force.
See the next article in this series for more important indicators that affect the potash industry.