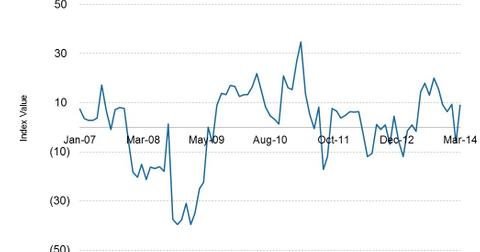 The Philadelphia Fed survey: Firms plan to invest in manufacturing
By Phalguni Soni

Updated
The Business Outlook Survey
The Philadelphia Fed's Business Outlook Survey is the first survey release amongst all the Federal Reserve banks after the Fed's FOMC meeting. The Survey, and particularly this month's report has been much anticipated as it will help financial market participants analyze how much of an impact has poor winter weather had on economic data in the past two months. The Business Outlook Survey report was issued by the Philadelphia Fed on Thursday, March 20.
What is the Business Outlook Survey?

Article continues below advertisement
The Business Outlook Survey is a monthly survey of manufacturers conducted by the Federal Reserve Bank of Philadelphia. Survey participants indicate the direction of change in overall business activity and in the various measures of activity at their plants: employment, working hours, new and unfilled orders, shipments, inventories, delivery times, prices paid, and prices received. Primarily, a manufacturing survey, it precedes the index of industrial production by nearly three weeks, and so, is known as a leading manufacturing indicator.
Manufacturing shakes off winter freeze
The Survey's headline number, the General Activity Index, increased by 15.3 to 9 after declining by 15.7 in February to -6.3. This was indicative of the manufacturing activity resuming, which had experienced contraction due to the unusually cold weather this winter. The New Orders Index and the Shipments Index also recorded increases of 10.9 and 15.6, respectively, to shrug off the effects of the cold winter. In other positives, delivery times decreased and unfilled orders increased compared to last month. The Employment Index recorded its ninth consecutive positive reading, although the index declined by 3.1 to 1.7.
Article continues below advertisement
The firms were also asked about their capital spending plans for 2014. 49% of survey respondents indicated that capital spending would increase, while 21% said that it would decrease compared to 2013. Firms cited higher sales growth and the need to replace outdated equipment as the chief reasons for the increase. Apart from low sales growth, low capacity utilization at existing facilities was cited as a key reason for lower capital expenditure.
However, both the Prices Paid and the Prices Received Indices reported declines, though both remained positive at 13.9 and 4.3, respectively. This is indicative of moderate price pressures for firms as more firms reported price increases rather than decreases both for costs of inputs as well as prices received for finished products, although the majority of firms who took part in the survey reported no change.
The Inventories Index declined by 10.4 to -6.8 as inventory balances decreased. The Future Index of General Activity as well as the Future New Orders Index posted declines, although both remained at relatively high levels. The Future Index of Shipments increased by 5.1 to 41.1.
Key implications from the Philadelphia Fed's survey
Article continues below advertisement
An increase in manufacturing activity is likely to benefit manufacturing companies. One ETF investing in the industrials sector is the State Street Industrial Select Sector SPDR (XLI). With an expense ratio of 0.18%, XLI tracks the Industrial Select Sector Index which includes companies from the following industries: industrial conglomerates; aerospace & defense, machinery, air freight & logistics, road & rail, commercial services & supplies; electrical equipment; construction & engineering; building products; airlines; and trading companies & distributors. An increase in manufacturing activity is likely to benefit all of the above industries.
Top holdings in XLI include diversified conglomerate General Electric (GE) and United Parcel Service Inc. (UPS). Transportation and logistics companies like United Parcel Service Inc. (UPS) are particularly likely to benefit from an uptick in manufacturing activity and higher shipments as the trickle-down effect will mean more business for them.
An increase in manufacturing activity will also imply that the economy is gathering steam and the Fed will continue to ease off the economic stimulus pedal. At the recently concluded FOMC meeting last week, the Fed announced a decrease in its monthly bond buying program to $55 billion per month from $65 billion per month. This would imply, other things remaining constant, that interest rates would increase and bond prices would decline, particularly affecting longer-term Treasuries (TLT) and agency-backed securities (MBB).
One ETF with exposure to longer-term Treasuries is the iShares 20+ Year Treasury Bond (TLT) ETF, which tracks the Barclays Capital U.S. 20+ Year Treasury Bond Index. The Index measures the performance of U.S. Treasury securities that have a remaining maturity of at least 20 years. The iShares Barclays MBS Fixed-Rate Bond Fund (MBB) primarily invests in agency-backed securities. MBB tracks the Barclays Capital U.S. MBS Index which measures the performance of investment-grade fixed-rate mortgage-backed pass-through securities of GNMA, FNMA, and FHLMC.
Read about the implication of another economic indicator that released on Thursday, which exhibits high correlation with other macro-economic variables in Part 4.