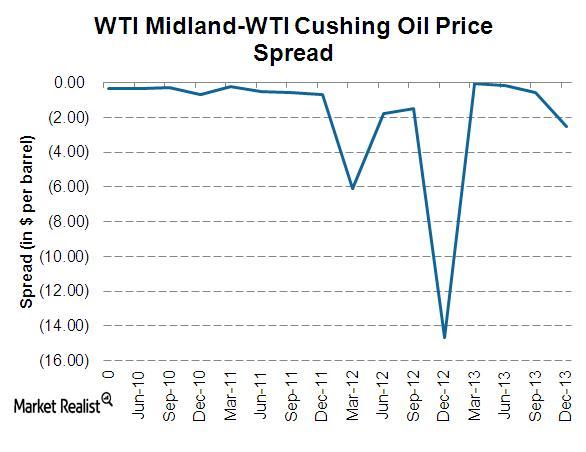 A Permian production increase has widened the WTI-Midland spread
By Alex Chamberlin

Nov. 22 2019, Updated 6:18 a.m. ET
Oil and gas producers in the Permian Basin in West Texas suffer when the price of WTI (West Texas Intermediate) crude priced in Midland, Texas (WTI Midland) decreases relative to the domestic benchmark crude of WTI priced at Cushing, Oklahoma (WTI Cushing). Note that WTI Cushing is generally accepted as the U.S. benchmark for crude prices as it is a major storage and transportation hub for oil.WTI Midland and WTI Cushing usually trade close to par, however, several times over the past two years the spread has blown out, sometimes as high as ~$20.00 per barrel in late 2012. The spread on March 13 at $10.5 per barrel is highest for 2014 so far. WTI Midland was trading at similar level to WTI Cushing price at the beginning of the year, but then fell continuously, the spread reaching $10.50 on February 24, before taking a sharp upturn to $4.75 per barrel on March 3. Since then, the spread has widened out again to $10.00 level.
Article continues below advertisement
Note that WTI-Midland crude has historically traded in line with WTI Cushing. However, over recent years, Permian production has ramped up significantly. Any disruption in takeaway capacity, which had been tight, causes spreads to blow out. For instance, if a pipeline that normally takes crude out of the Permian goes down for some reason, the crude must be redirected to other pipelines or must find other transport like rail. If these other options are fully utilized, it could cause a temporary glut of Permian crude, pushing prices downward.
The takeaway capacity in the Permian had lagged the growth in production for some time, which caused a price divergence between WTI Midland and WTI Cushing. Companies in the Permian generally receive a price closer to WTI Midland crude than WTI Cushing, so this price divergence hit revenues of Permian producers. Natural Resources (PXD), Laredo Petroleum (LPI), Concho Resources (CXO), and Occidental Petroleum Corporation (OXY) are some of the companies producing crude oil in Pemian Basin. United States Oil Fund ETF (ESO) that Tracks changes in the price of light, sweet crude oil will be affected by crude oil price change.