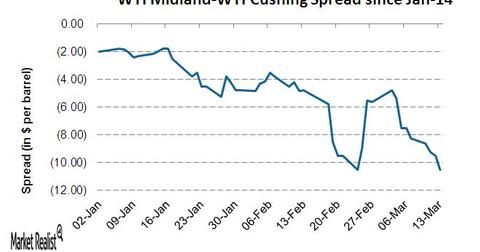 Must know: Why is the West Texas crude trading at a discount?
By Alex Chamberlin

Updated
The WTI-Midland spread has widened over the past few weeks. WTI is the benchmark crude oil priced in Oklahoma, and Midland is the oil priced in the Permian Basin (a high crude production area) in West Texas. The reference price for producers in the Permian region in West Texas is generally WTI crude priced at Midland. Domestically, the trading benchmark for oil price is WTI price of Cushing (Oklahoma).
Article continues below advertisement
The prices for West Texas Intermediate (WTI) crude at Midland, TX traded at a discount of $10.50/Bbl to WTI at Cushing, OK on Thursday, March 13 of last week. For the week, the spread (that is, difference between Midland and Cushing oil prices) has widened as follows; $8.60/Bbl on March 10, $9.25/Bbl on March 11, $9.50/Bbl on March 12, and $10.50/Bbl on March 13. Soaring production and tight pipeline capacity out of West Texas mean small changes in the region's supply balance can cause the discount to blow out. It should be noted that pipeline tariff between the two trading hubs is less than $1.00/Bbl.
Permian producers suffer when WTI Midland crude decreases relative to WTI Cushing crude as the price they realize on their oil is generally closer to the Midland crude price. So, when Midland crude prices decrease, they receive less revenue from the oil they produce. Midland crude's decrease in price relative to Cushing over the past several weeks has been a negative medium-term catalyst for oil producers in Permian Basin. An increasing spread means, in general, producers with oil producing assets in the Permian will receive a lower price per barrel than they would if infrastructure constraints were not an issue.
Some companies with significant assets in the Permian include Pioneer Natural Resources (PXD), Laredo Petroleum (LPI), Concho Resources (CXO), and Occidental Petroleum Corporation (OXY). Note that the midstream companies which engage in pipeline distribution of oil can benefit from the widening spreads. These include Plains All American Pipeline (PAA), Magellan Midstream Partners (MMP), and Genesis Energy (GEL). United States Oil Fund ETF (ESO) that Tracks changes in the price of light, sweet crude oil will be affected by crude oil price change.