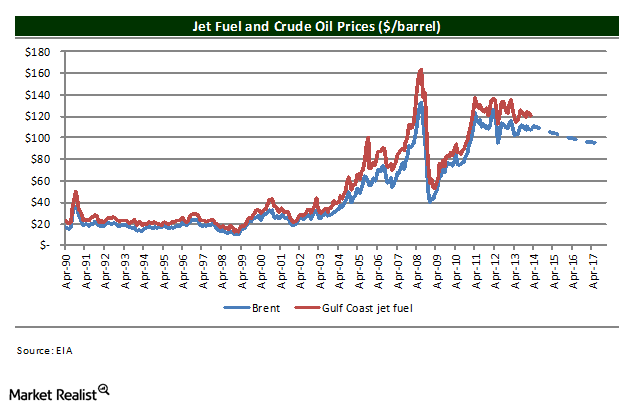 Airfreight business overview: A guide to companies like Atlas Air
By Stilian Morrison

Nov. 20 2020, Updated 11:08 a.m. ET
Airfreight
Airfreight is something of a niche or boutique business in which cargo traffic (demand) primarily fluctuates based on pricing versus larger-sized competitive substitutes (sea, land), and terms of trade (FX, relative prices). In Boeing's 2012–2013 (last) biennial presentation on world air cargo, the containership freight market (which is only dry cargo) was sized at over 50x (and growing) versus the revenue-ton-kilometers (FTKs) of world air cargo. Ground cargo is not a direct substitute for most air freight, but this World Bank indicator shows that some 4.4 trillion ton-kilometers were transported in China alone in 2010. For comparison, the entire air and containership cargo markets were 0.2 trillion and 10 trillion ton-kilometers, respectively, in 2011. It is no secret that there has been a long-standing secular shift to other modes of freight transport (airfreight is 1% to 2% of global volume), but conversely, there has been a critical value shift.
Article continues below advertisement
Airfreight accounts for 35% of global freight value (some $6.4 trillion) due to small, high-value categories of inventory and just-in-time processes inherent in parts of the supply chain. Atlas' CEO, Bill Flynn, estimates some 15% of the company's serviced cargo to be just-in-time, while 20% (not necessarily mutually exclusive) is small high-value material. The latter has in the past been impacted by miniaturization (via smartphones and tablets), but I tend to agree with his view that this trend has largely worked its way through airfreight as smartphones begin to increase screen size and tablet sales stall. In any event, Atlas is not overtly leveraged to that sort of cargo.
Outsourced airfreight operators, both asset-heavy and asset-light, typically serve both airlines and freight forwarders. The latter tend to be more critical to Atlas' type of business since they will often outsource some aspect of the airfreight process to free up capital for managing other logistical business (e.g. warehousing). Second-party logistics providers (2PL) own the planes themselves, while 3PLs outsource the aircraft need to a firm like Atlas. DHL, though owning more than 250 aircraft, has the leading global 3PL airfreight business and also represents Atlas' largest customer as well as a JV partner. In general, 3PL revenues have grown at an outsized clip (+14% in 2011, +11% in 2012) despite air's anemic trend. Critically, 3PL firms can pay out some 50% of their revenues to transportation carriers.
Article continues below advertisement
Jet fuel is airfreight's dominant input cost, and prices have remained within the range of three-year highs, conferring a meaningful cost on non-charter lessees, which must foot the bill when scheduling for ACMI/CMI and dry leasing. This has exacerbated the adverse impact of competitive substitution on cargo demand. However, the outlook suggests a favorable macro trend; Brent futures are guiding down below three-year support levels.
Global airfreight costs also include a regulatory component: customs procedures and various landing and port costs. This can be an understated input cost, but protectionism and a tapering of world trade relative to industrial production have forced a
re-evaluation. The recent WTO meeting in Bali appeared to be successful at promulgating trade facilitation measures to boost trade volume to the tune of $400 billion a year, but there's still much work to be done to improve airfreight relative value versus sea and land. Moreover, it is as yet unclear what proportion of the cost reduction in red tape will accrue to air modes versus sea or land.
The Market Realist Take
Article continues below advertisement
The International Air Transport Association (the IATA) released figures last month showing a 1.4% expansion of global freight tonne kilometers (or FTKs) in 2013 compared to 2012. Cargo markets made very slow progress during the first half of the year. Acceleration in the trend took root in the latter half of 2013, placing air freight volumes on a steadily increasing trajectory. Capacity grew faster than demand, at 2.6%, and load factors were weak, at 45.3%.
According to the IATA report, North American carriers' air freight volumes contracted 0.5% in December and fell 0.4% for the whole of 2013 compared to 2012. Indicators of business activity in North America have shown some improvement in recent months, but they remain below the levels seen at the start of 2013. Asia-Pacific carriers, which have nearly 40% of the global air freight market, saw cargo activities shrink by 1.0% over the year.
Article continues below advertisement
IATA's Director General and CEO, Tony Tyler, said, "2013 was a tough year for cargo. While we saw some improvement in demand from the second half of the year, we can still expect that 2014 will be a challenging year. World trade continues to expand more rapidly than demand for air cargo. Trade itself is suffering from increasing protectionist measures by governments. And the relative good fortunes of passenger markets compared to cargo make it difficult for airlines to match capacity to demand."
Tyler expects 2014 to be a year of change for air cargo, especially with efforts for the electronic air waybill implementation. An air waybill (AWB) is a document made out by or on behalf of the shipper which evidences the contract between the shipper and the carrier for carriage of goods over routes of the carrier. Tyler said the implementation will lay the foundation for "further improvements for a modern paperless air cargo industry that can only be achieved by aligning all stakeholders—including governments—in a common vision."
Article continues below advertisement
Among the few pure-play or "close-fit" ACMI public comps, Air Transport Services Group (ATSG) is Atlas' closest peer. ATSG reported a decline in its ACMI Services revenue due to operation of fewer international cargo planes for its customers, including the U.S. military, as well as fewer ad hoc charters. In general, Atlas' business relates mainly to dry lessors like AerCap (AER), Air Lease Corp. (AL), Aircastle (AYR), and freight forwarders such as FedEx (FDX), United Parcel Service (UPS), and UTi Worldwide (UTIW). The former still are a smaller component of the business, and the latter are Atlas' primary customer base.
AerCap's acquisition of International Lease Finance Corp. last year prompted industry experts to conclude that the aircraft leasing industry will see further consolidation. Air Lease, which leases commercial jet transport aircraft, also said on its earnings call that over the past few years, the industry has witnessed an emergence of agent-based lessors, acquisitions of leasing franchises, and consolidations. Aircastle said that air cargo market remains weak, with a modest improvement in demand during the past year. But oversupply remains the biggest issue, and it will take a while to work through the supply of available aircraft. Freight forwarder UPS said its fourth quarter results were negatively impacted by excess operating costs due to significantly higher-than-predicted volume and inclement weather in the U.S. Both UPS and FDX have announced increases to freight rates despite international customers moving towards cheaper shipping services.