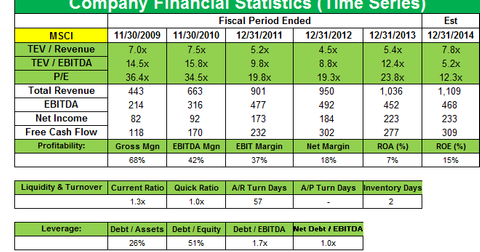 Why ValueAct Capital Management increased its position in MSCI
By Samantha Nielson

Updated
ValueAct Capital and MSCI

ValueAct initiated a new position in Dresser-Rand Group, Inc. (DRC). It sold its stakes in CF Industries (CF), The Mosaic Company (MOS), and Valero Energy Corporation (VLO). The fund increased positions in Allison Transmission Holding (ALSN) and MSCI Inc. (MSCI). It reduced its stake in Adobe Systems Incorporated (ADBE).
ValueAct Capital, co-founded by Jeffrey Ubben, slightly increased its stake in MSCI Inc. (MSCI). The position currently accounts for 2.70% of the fund's fourth quarter portfolio.
Article continues below advertisement
MSCI is a global provider of investment decision support tools, including indexes, portfolio risk and performance analytics and corporate governance products and services. Its products and services address multiple markets, asset classes, and geographies and are sold to a diverse client base. As of December 31, 2013, MSCI had approximately 8,300 clients across 84 countries. MSCI's Performance and Risk business provides investment decision support tools, including equity indexes, real estate indexes and benchmarks, portfolio risk and performance analytics, credit analytics and environmental, social and governance ("ESG") products.
MSCI recently sold its governance business Institutional Shareholder Services Inc. (ISS) to Vestar Capital Partners for $364 million. The transaction is expected to close in the second quarter. ISS' services include objective proxy research and analysis, end-to-end proxy voting and distribution solutions, turnkey securities class-action claims management, and reliable governance data and modeling tools.
Article continues below advertisement
MSCI's principal sales model is to license annual, recurring subscriptions to its products and services for use at specified locations, often by a given number of users or for a certain volume of services, for an annual fee paid up-front. For the year ended December 31, 2013, $860.7 million, or 83.1%, of revenues came from annual, recurring subscriptions. An additional $149.5 million of its revenues came from clients who use MSCI indexes as the basis for index-linked investment products such as ETFs.
MSCI's fourth quarter results beat analyst expectations on revenue but missed on estimates. Operating revenues increased 8.3% to $267.6 million for fourth quarter 2013. Net income declined 13.2% to $47.3 million for fourth quarter 2013 as it was negatively impacted by higher income tax expense and non-recurring expenses. Diluted EPS was $0.39, down $0.05, or 11.4%, as a 2.5% decline in weighted average shares outstanding partially offset the impact of lower net income.
The Performance and Risk segment revenues rose $20.9 million, or 9.7%, to $236.9 million and rose 5.8% on an organic basis. The increase was primarily driven by higher revenues from index and environmental, social, and governance (ESG) products and risk management analytics. The recently sold Governance segment revenues fell $0.4 million, or 1.2%, to $30.8 million for fourth quarter 2013.
MSCI's total run rate grew by $83.0 million, or 8.6%, to $1,050.4 million for fiscal 2013 compared to fiscal 2012. Total subscription Run Rate grew by $51.7 million, or 6.2%, to $892.1 million as of fiscal 2013 compared to fiscal 2012. The Run Rate at a particular point in time represents the forward-looking revenues for the next 12 months from all subscriptions and investment product licenses MSCI currently provides to its clients under renewable contracts or agreements. The management said that, "As the operating environment continues to improve, we believe our clients need for MSCIs investment decision support tools will only increase."