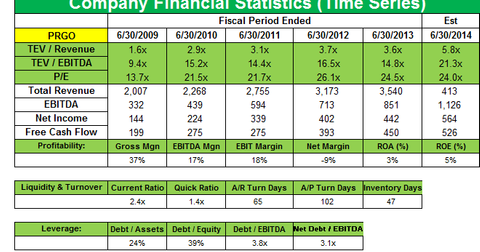 Israel Englander's Millennium Management ups its stake in Perrigo
By Samantha Nielson

Updated
Millennium Management and Perrigo

Some of the notable positions traded by Millennium Management during the fourth quarter include new positions in Endo International PLC (ENDP), Crown Holdings (CCK), and SunTrust Banks (STI). The fund also saw stake increases in Perrigo Company PLC (PRGO) and NextEra Energy Inc. (NEE).
Millennium Management upped its position in Perrigo Company PLC (PRGO), which currently accounts for 1.28% of the fund's 4Q portfolio.
Article continues below advertisement
Perrigo Company PLC, headquartered in Ireland, is the world's largest manufacturer of OTC healthcare products for the store brand market and an industry leader in pharmaceutical technologies. The company has five reportable segments, aligned primarily by type of product: Consumer Healthcare, Nutritionals, Rx Pharmaceuticals, API, and Specialty Sciences. As a result of the Elan acquisition on December 18, 2013, the company expanded its operating segments to include the Specialty Sciences segment, which comprises assets focused on the treatment of Multiple Sclerosis (Tysabri) and Alzheimer's.
Millennium Management had a position in Elan in the third quarter. At the close of the transaction, Perrigo and Elan combined under Perrigo Company PLC, a new company incorporated in Ireland. Under the deal, Elan shareholders received $6.25 in cash and 0.07636 shares of the combined Perrigo Company for each Elan share. Perrigo's management believed the $9.5 billion acquisition of Elan provides recurring annual operational synergies and related cost reductions. The company expects to have a lower future tax rate due to changes to the estimated jurisdictional mix of income and the new corporate structure attributed to the acquisition of Elan.
Perrigo's 2Q 2014 results missed on revenue but beat earnings estimates. The company reported an increase in net sales in 2Q 2014 to $979 million—an increase of 11% over the second quarter of fiscal 2013, driven primarily by $53 million in new product sales and $39 million attributable to the acquisitions of Rosemont Pharmaceuticals Ltd, Fera Pharmaceuticals, LLC, Elan Corporation, and Velcera, Inc., along with continued growth in its overall base business. Perrigo saw a GAAP net loss of $86 million, or $0.87 per diluted share, due primarily to $269 million of acquisition-related charges, including loss on extinguishment of debt. Management said sales were driven by Perrigo's Rx and Nutritional business segments and strong new product sales. However, sales within the Consumer Healthcare segment were impacted by a later start to the cough, cold, and flu season.
Perrigo recently announced it has acquired a basket of value-brand OTC products sold in Australia and New Zealand from Aspen Global Inc. for $51 million in cash. The products primarily sell through the mass retail channel and include the Herron range of analgesics, vitamins, and supplements.
Perrigo expects fiscal 2014 adjusted earnings to be between $6.45 and $6.70 per diluted share, compared to $5.61 in fiscal 2013. This range implies a year-over-year growth rate in adjusted earnings of 15% to 19% over fiscal 2013's adjusted earnings per diluted share.