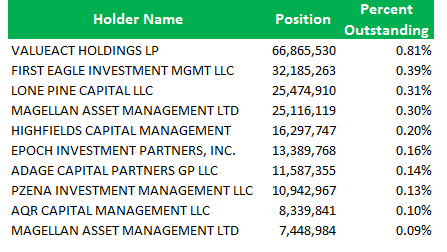 Why did Lone Pine Capital initiate a new position in Microsoft?
By Samantha Nielson

Updated
Microsoft (MSFT) is a brand new 4.91% position initiated by Lone Pine Capital in the fourth quarter.
On February 4, Microsoft announced the appointment of Satya Nadella as chief executive officer, months after Steve Ballmer stepped down. Previously, Nadella was the executive vice president of Microsoft's Cloud and Enterprise group. Analysts considered the appointment to be a "safe choice" and the stock price rose slightly with Nadella heading one of Microsoft's fastest-growing, most profitable divisions. He has spearheaded major strategy and technological shifts, especially Microsoft's move to the cloud and the development of cloud infrastructure supporting Bing, Xbox, Office, and other services. In the last fiscal year, the division generated $20.3 billion in revenue and $8.2 billion in operating income.
Article continues below advertisement
The company is also in the process of transforming itself from a software player to a "devices and services company" in an organizational overhaul aimed at improving sales and its competitive position. The $7.2 billion acquisition of Nokia's devices and services business last year was in line with this transformational move. Nadella is poised to face several challenges, as the company's core consumer business is lagging behind the enterprise. Declining PC sales, a shift to mobile computing, and high competition in the tablet, gaming, and online advertising space have been impacting the consumer segment. Microsoft was a late entrant in the mobile space and has been struggling against the market leaders Google (GOOG) and Apple (AAPL), and even Amazon (AMZN).
In 2Q 2014, revenue increased 14%, to $24.52 billion, while net income increased 2.8%, to $6.56 billion, which was above street estimates. The devices and consumer segment grew 13%, to $11.91 billion, boosted by its Surface tablet revenue, which more than doubled sequentially, and Bing search advertising revenue, which increased 34%. The Windows operating system saw a 3% revenue decline. Xbox 360 platform revenue decreased $1.1 billion, or 29%, mainly due to lower volumes of consoles sold and lower video games revenue, offset in part by higher Xbox LIVE revenue. The company's commercial revenue grew 10%, to $12.67 billion, driven mainly by revenue from commercial cloud services. Microsoft representatives said, "Our commercial cloud services revenue grew more than 100% year-over-year, as customers are embracing Office 365, Azure, and Dynamics CRM Online, and making long-term commitments to the Microsoft platform."
Article continues below advertisement
Nadella has reiterated Ballmer's strategy to reposition Microsoft around mobile computing and a cloud-based platform and applications. Unconfirmed news reports recently said Microsoft is to cut its license fees by about 70% for both Windows Phone and Windows 8.1 for lower-cost devices. The company also recently introduced some changes to Windows Phone by easing restrictions on the hardware specifications and software support for cheaper chipsets to bring down costs. The companny said at the Mobile World Congress that these updates have attracted handset manufacturers such as South Korea's LG Electronics, India's Xola and Karbonn, and ZTE, Foxconn, Lenovo, Gionee and Longcheer.
The company's shareholders have been demanding radical changes, and only time will tell if Nadella can rise up to the challenges. On Nadella's appointment, FBR analyst Daniel Ives said, "We believe filling this position with a core Microsoft insider will disappoint those hoping for a fresh strategic approach (for example, potential breakup of enterprise/consumer, Xbox spin off) an outside executive could have brought to the table." Microsoft has heard calls to spin off its money-losing businesses (especially Bing and Xbox) and concentrate on selling enterprise solutions.