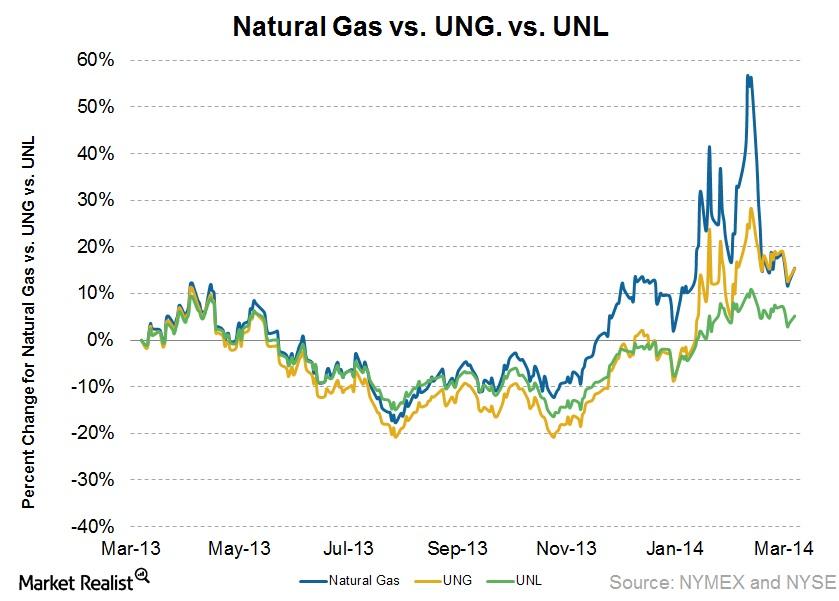 Popular ways for investors to play natural gas prices
By Ingrid Pan

Nov. 20 2020, Updated 4:11 p.m. ET
Playing natural gas prices
For most investors, the most straightforward way to play natural gas prices is through commodity ETFs or investing in equities that produce natural gas.
The major commodity funds that specialize in tracking the price movements of natural gas are the United States Natural Gas Fund (UNG) and the United States 12 Month Natural Gas Fund (UNL). UNG aims to track movements in the spot price of natural gas through investing in a portfolio mostly comprised of the front month futures contract for natural gas and U.S. Treasurys. UNL invests in a portfolio that's generally equal-weighted across the next 12 months of natural gas contracts (not just the front month, as UNG does).
Article continues below advertisement
Note that while these funds aim to track changes in natural gas prices, the ETFs' performance could significantly differ from the actual delta in natural gas spot prices (to learn more, please see Must-know recommendation: Key ways to play the natural gas rally). Over the past six months, UNG has returned 27% and UNL has returned 12%. Meanwhile, the spot price of Henry Hub natural gas increased from $3.77 per MMBtu to $4.57 per MMBtu, a change of 21%. UNG likely outperformed changes in the spot price of natural gas, as in recent months, the natural gas futures curve has been moving backward, which means contracts that expire at later dates trade cheaper than contracts that expire sooner. As these ETFs invest in a portfolio of futures, they must constantly roll over contracts that are about to expire into the next month's contracts. However, note that historically, the futures curve is priced so that later contracts are more expensive, so these ETFs can often underperform price changes in spot natural gas due to the roll cost.
The other major way to play natural gas prices is through investing in an upstream company that produces majority natural gas and is therefore levered to changes in natural gas prices. These companies include Chesapeake Energy (CHK), Southwestern Energy (SWN), and Range Resources (RRC).
These companies directly benefit from rising natural gas prices, as they result in higher revenues and earnings for the company, which theoretically should boost valuation. Plus, higher natural gas prices also increase the value of these companies' natural gas assets—the natural gas in the ground that the companies have the right to drill and produce. A benefit to investing in natural gas producers rather than a commodity ETF is that these investments are equities, and there's no cost associated with rolling over futures contracts. However, note that investing in companies comes with a risk that's idiosyncratic to specific names. For instance, a major lawsuit at a company could adversely affect the company's stock price, regardless of which way natural gas prices are moving. It's possible to diversify away some of this idiosyncratic risk by investing in multiple companies that produce natural gas. Also, note that most companies that produce natural gas also have some significant oil production. So investing in these companies also means gaining some exposure to fluctuations in oil prices.
To learn about one theme that has been affecting oil prices in recent weeks, read on to the next part of this series.