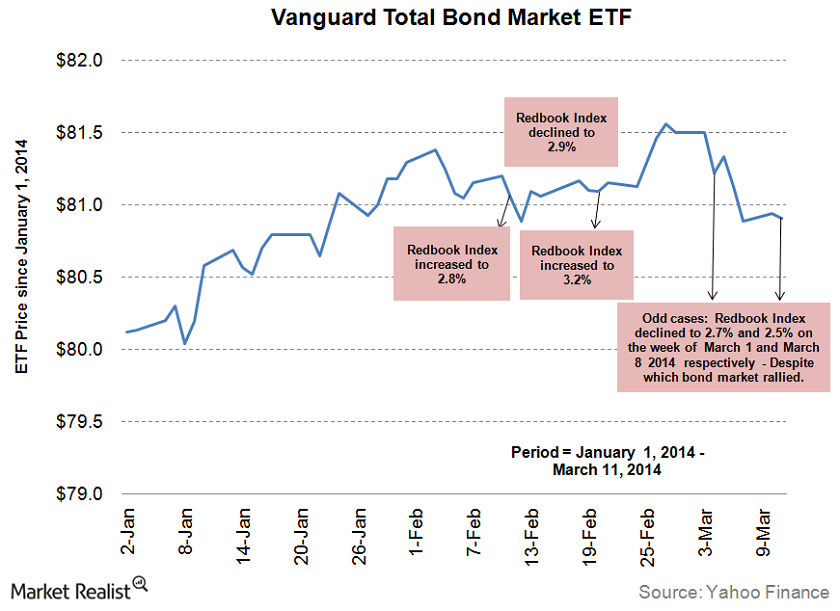 What are the major indicators covered in the Redbook Index?
By Sandra Nathanson

Oct. 29 2019, Updated 7:50 p.m. ET
Retail sales are a great measure to assess the consumer spending pattern of the country. Consumer spending is a part of a vicious circle. When employment levels goes up, so does the consumer buying power. Most jobs come in the form of salary, which leaves consumers with the money to spend. When consumers have more money to spend, companies experience higher demands for their products, which potentially increase their revenue levels. When demand goes up, companies normally hire more workers. All these activities have a direct impact on the growth of the economy.
Article continues below advertisement
The Redbook Index tries to provide near-real-time weekly assessments of the consumer buying activity in large retail chain stores including apparel stores, departmental stores, discounters, drug stores, and warehouses. An increase in the Redbook Index—increase in retail sales and consumer spending—is likely to benefit companies in the sector, including Wal-Mart Stores, Inc. (WMT), Costco Wholesale Corporation (COST), Best Buy Co., Inc. (BBY), and Walgreens (WAG).
How do the indicators reported in the Redbook Index affect fixed income investors?
Weekly data is a very powerful indicator of short-term volatility in retail sales. For the analysts in the fixed income market, weekly reports are an early indication of where the economy is headed. A substantial portion of retail sales is driven by the consumer spending, which constitutes more than two-thirds of the U.S. gross domestic product. So, changes in the consumer spending have a major impact on the overall growth of the economy.
Article continues below advertisement
For the bond market (BND), the focus is on whether economic growth leads to inflation. When the economic growth slows down, investors move into the bond markets. However, when economy accelerates, investors move from bonds to the equity market. The economic impact on the bond market can be understood by tracking the ETFs such as iShares Barclays 20+ Year Treasury Bond (TLT) and Vanguard Total Bond Market ETF (BND).
As observed in the chart above, the bond market tends to react in the opposite direction to the Redbook Sales Index. An increase in the index means the economy is growing with an increase in the consumer spending levels. The situation may lead to a rise in inflation as demand increases. Plus, the improved economy allows the Fed to increase interest rates, which causes the bond prices to fall.
Interest rates and bond prices are inversely correlated. If the interest rates go up, then bond prices fall and the yield (rate of return) on the bonds increases. For declining interest rates, bond prices increase, which is also a sign of a dilapidated economy.