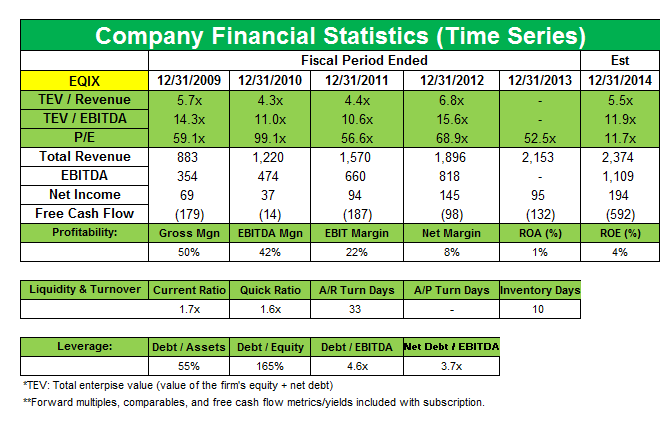 Why did Lone Pine Capital decide to move out of Equinix?
By Samantha Nielson

Mar. 6 2014, Published 4:00 p.m. ET
Equinix, Inc. (EQIX), a global interconnection and data center company, was a 1.78% position that was liquidated by Lone Pine Capital in 4Q 2013. The position was first initiated in 2Q 2010.
Equinix's latest 4Q results beat analyst estimates with diluted net income of $45.2 million or $0.88 per share, compared to $45.3 million or $0.83 per share last year. Revenues were $564.7 million for the fourth quarter, a 4% increase over the previous quarter and a 12% increase over the same quarter last year. Revenues for 2013, were $2.15 billion, a 14% increase over 2012, and the adjusted EBITDA was over $1 billion, a 13% increase over 2012. Recurring revenues, consisting primarily of colocation, interconnection, and managed services were $538.1 million for the fourth quarter, a 4% increase over the previous quarter.
Article continues below advertisement
The company said fourth quarter results were positive, underpinned by significant growth in cloud and IT services, which grew 16% year-over-year and led all segments in multi-region deployments. Equinix ended 2013 with over 1,200 cloud and IT services customers. Churn for the fourth quarter was 2.3%, down from 2.5% for the previous quarter and consistent with prior guidance.
For 2014, a significant part of Equinix's strategy and innovation investment is aimed at capturing the longer-term opportunity associated with cloud computing. Cloud is creating massive disruptions in the IT supply chain at an accelerated pace and will create opportunities across all of the company's verticals.
Equinix said in its earnings release last month that the company has repurchased 0.5 million shares of its common stock under the $500 million share repurchase program authorized in December 2013. This was done at an average price of $172.47 per share for total consideration of $92.5 million.
In September 2012, Equinix's board approved the conversion to a REIT, and the conversion is scheduled to complete in January 2015. In its recent earnings call, Equinix said, "while we're still awaiting the response from the IRS on our PLR request, we currently do not expect delays in this timeframe." The stock took a dive in 2Q 2013, after news reports that the Internal Revenue Service was scrutinizing Equinix's eligibility for REIT status. A REIT conversion is expected to benefit the company since REITs pay lower taxes and higher dividends than other companies. In November, both Equinix and its peer Iron Mountain Inc. (IRM) said the IRS is proceeding to evaluate their eligibility. Equinix believes it's eligible for REIT status "based on both existing legal precedent and the fact that other data center companies currently operate as REITs." These include CoreSite Realty (COR), Digital Realty Trust (DLR), and DuPont Fabros Technology (DFT).
A Pipar Jaffrey analyst recently downgraded the stock and said, "Based on our recurring FCF estimates, we believe the market is already pricing in a favorable REIT conversion ruling, with shares trading at a modest premium to other REITs. Moreover, if the company does not receive a positive ruling, we see significant downside in the shares, as the stock would likely trade in line with the non-REIT data center group."