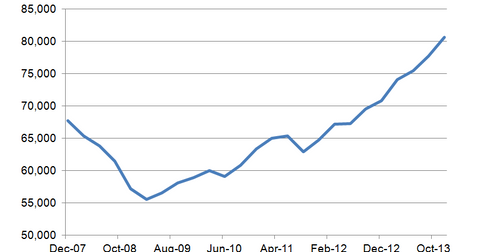 Increasing asset prices cause the household net worth to soar high
By Brent Nyitray, CFA, MBA

Mar. 12 2014, Published 7:57 p.m. ET
The Federal Reserve releases a statement about household net worth quarterly
The Federal Reserve Balance Sheet statement looks at the state of households and non-profit institutions and breaks down the assets and liabilities by classification. For households, wealth is primarily held in financial assets—real estate accounts for about 29% of assets. The rest are stocks and bonds, deposits, etc. The important thing to focus on is what is driving the increase in net worth—is it due to debt liquidation (repayments), or is it due to asset price inflation?
Asset prices drive the increase
Article continues below advertisement
Household net worth increased in the fourth quarter to $80.7 billion from $77.7 billion in the third quarter and $70.9 billion a year before. Household assets increased from $91.4 billion to $94.4 billion, while liabilities increased from $13. 7 billion to $13.8 billion. Real estate assets increased from $21.5 billion to $22 billion, while equities increased to $13.9 billion from $12.5 billion the quarter before. This increase in asset prices has been a prime driver of the Fed's quantitative easing policy, which was to increase household net worth through asset price inflation.
The risk is that asset prices fall once the artificial stimulus is removed
It is imperative that the Fed "stick the landing" with respect to quantitative easing and ultra-low interest rates. Asset prices are invariably vulnerable to interest rate increases, and the last thing the Fed wants to do is spook the markets. Remember the old market saw—"Don't fight the Fed." It is a warning to sell when the Fed is tightening (and not to short when the Fed is easing). This concern is undoubtedly the reason for the Fed's newfound transparency—they want to communicate explicitly what they are thinking and what their intentions are.
Implications for the homebuilders
Increases in household net worth are important drivers for the builders. As home prices increase, negative equity drops, which creates a bigger pool of potential customers. Second, as household balance sheets repair themselves, people feel more comfortable taking risk, and buying a new home is by definition a big risk. The increase in household net worth is undoubtedly good news for the builders like Lennar (LEN), D.R. Horton (DHI), PulteGroup (PHM), and Toll Brothers (TOL). Investors who are interested in trading the sector as a whole should look at the SPDR Homebuilder ETF (XHB).