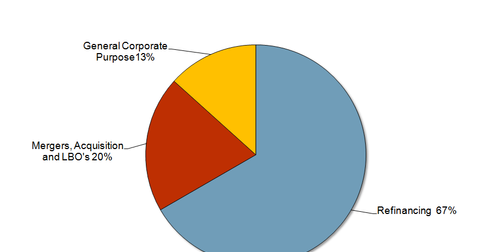 The high yield bonds' preferential pricing: Investor demand drops
By Sandra Nathanson

Mar. 21 2014, Published 8:00 a.m. ET
Contrast market
Last week was a complete different ball game. The pricing on most of the deals was at the wide end of the talk, pushing away the supply for the high yield bonds (HYG). This was a sheer contrast to the previous week's deals, which showed overwhelming investor's demand for the new issuance. A total of 15 issuers accessed the high yield bond market (JNK) to take the advantage of the lower Treasury yields. The U.S. ten-year Treasury yield (TLT) was down by 13 basis point, or 0.13% to 2.65%.
In general, when the interest rate declines, the issuer tries to lock in higher number of deals, as the cost of financing the deal or yields, which is a rate of return offered to hold the bond decreases. However, not always the market activity behaves in the similar fashion.
For example, despite the lower interest rates last week, the number of issuance declined. This is mainly because many issuers have already accessed the market for their needs for funds.
Pricing is essential
Pricing of a deal is reworked number of times before the security is allocated or syndicated to the bondholders. Upon the syndication, bonds become available for the purchase and sale in the aftermarket—the market through which the retail investors access the high yield bond market.
Article continues below advertisement
At the very first step of the issuance, bankers and institutional investors negotiate on the deal pricing terms based on the bond price with an original issue discount. If the issue price is less than the ask price, it means that the deals are transacted in the wide end of the talk. The wide end of the talk also means that demand is less and investors are pushing the deal for better pricing. This may lead issuers to increase the yield (rate of return) to create the demand for their bonds.
Deals in the tight end of the talk indicate a solid demand for the new issue. which allows issuers to push down the yields.
Repricing was the center of the mass
Of the total number of deals that hit the market, about 67% of the issuance was refinancing or repricing deals. The structure of the repricing deals allows investors to raise or extend the term period of the existing bond. Term period is the time length of the bond. In general, high yield bonds are issued with five-to-ten-year term maturities. Short durations are possible, but then the issuer needs to set a high coupon rate to attract buyers. In an environment of rising interest rate expectations, issuers are not willing to issue shorter maturity bonds, rather, couple of weeks activity suggested higher repricing on the long-term bonds.
Continue to read on the major deals including companies like United Rentals, Inc. (URI), Hercules Offshore, Inc. (HERO), and Post Holdings, Inc. (POST), who tapped the high yield bond market last week.