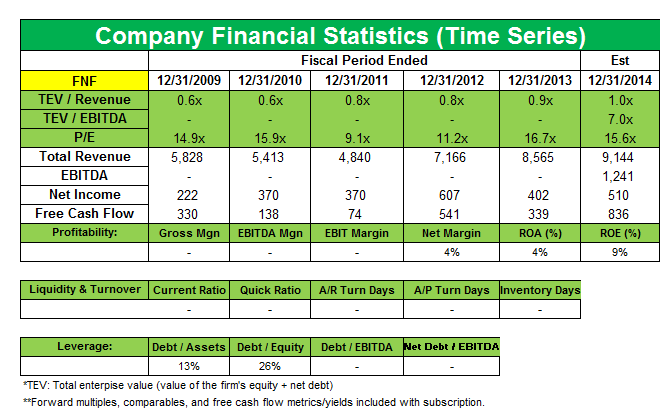 The Baupost Group buys stake in Fidelity National Financial
By Samantha Nielson

Nov. 20 2020, Updated 3:32 p.m. ET
The Baupost Group and Fidelity National Financial

Seth Klarman's Baupost Group started new positions in Fidelity National Financial Inc. (FNF), Kindred Biosciences Inc. (KIN), and Alon USA Partners LP (ALDW) and increased its positions in Idenix Pharmaceuticals (IDIX) and PBF Energy Inc. (PBF).
Fidelity National Financial Inc. (FNF) is a new position initiated by The Baupost Group last quarter. The position accounts for 1.82% of the fund's 4Q portfolio.
Article continues below advertisement
Fidelity National Financial is a provider of title insurance and transaction services to the real estate and mortgage industries. It's the largest title insurance company in the United States and a leading provider of title insurance and escrow and other title-related services for real estate transactions. Through the third quarter of 2013, FNF's insurance companies had a 32.2% share of the U.S. title insurance market, according to the American Land Title Association.
FNF has a 51% stake in Remy, a leading designer, manufacturer, remanufacturer, marketer, and distributor of aftermarket and original equipment components for automobiles, light trucks, heavy-duty trucks, and other vehicles. It also has a 55% ownership interest in American Blue Ribbon Holdings, LLC (ABRH), the owner and operator of O'Charley's, Ninety Nine Restaurants, Max & Erma's, Village Inn, and Bakers Square. This segment also includes J. Alexander's, which includes the Stoney River Legendary Steaks concept. FNF also has a share in the operations of certain equity investments, including Ceridian, Digital Insurance, and other smaller operations that aren't title-related.
Article continues below advertisement
On January 2, 2014, Fidelity National Financial completed its purchase of Lender Processing Services, Inc. for $3.4 billion, aiming to expand its core mortgage business. FNF also announced the reorganization of the former Lender Processing Services businesses via the formation of a wholly owned subsidiary, Black Knight Financial Services, Inc. Black Knight offers the mortgage and finance industries' leading provider of integrated technology, data, and analytics solutions and transaction services. Black Knight will have two operating segments, ServiceLink Holdings and Black Knight Financial Services.
In October of last year, Keith Meister's activist hedge fund Corvex Management disclosed a stake in Fidelity National Financial. In December, Fidelity National Financial announced it has retained J.P. Morgan Securities to work with management to identify strategic alternatives for FNF's portfolio company investments, potentially including a tracking stock, spinoffs, sales, and other potential strategic alternatives, to both monetize and highlight the value of FNF's portfolio investments for the benefit of its shareholders. Corvex said it applauds the decision to explore strategic alternatives with regards to its non-core assets in order to unlock value not reflected in the current share price. The fund also hailed the decision to focus capital allocation going forward towards the new core business and away from non-core businesses. FNF also said future free cash flow from core operations is expected to be used to pay down debt, invest in core operations, pay dividends, and repurchase shares—and not for acquisitions outside of its core business.
Article continues below advertisement
Fidelity announced at the end of January that the board has approved a plan to create a tracking stock for its portfolio company investments. FNF would contribute these portfolio company investments into a new subsidiary, Fidelity National Financial Ventures (FNFV), and create and distribute a class of shares to FNF shareholders that tracks the performance of FNFV. The primary portfolio company investments that will contribute to FNFV include FNF's equity interests in Remy International, Inc. (REMY), American Blue Ribbon Holdings LLC (ABRH), J. Alexander's Holdings LLC (JAX), Ceridian HCM, Comdata Inc., and Digital Insurance, Inc. It's expected that the Net Asset Value of FNFV's portfolio company investments and the financial support from FNF will be approximately $1.3 billion, or $4.77 per FNF common share. The creation of FNFV will completely separate Fidelity's investment activities from the title operations
Fidelity National Financial topped Street estimates in its fourth quarter results. Fidelity posted adjusted fourth-quarter earnings of $0.43 a share, down from $0.72 in the previous year. Revenue declined 7% to $2.07 billion, as a fall in refinance title orders impacted business volume.
Due to declining refinance order volumes, the company cut costs by eliminating over 700 positions during the fourth quarter and over 2,300 since the staffing peak in May 2013. FNF is confident these actions position the company to maximize profitability in its title insurance business as the company enters what looks to be a much more purchase-driven market in 2014.