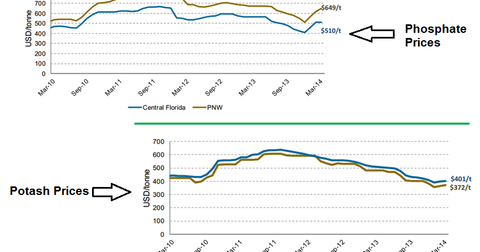 Fertilizer prices bounced off 2013 lows but aren't expected to rise
By Xun Yao Chen

Mar. 28 2014, Published 12:00 p.m. ET
Fertilizer prices
As a key component of potash producers' revenue, fertilizer prices often receive wide attention from industry experts, company managers, investors, and analysts. Movements of potash and phosphate prices affect revenues, which in turn flow down to earnings and potentially share prices. But expectations of these fertilizer prices are often enough to move share prices.
Finding a bottom?
Article continues below advertisement
Since 2011, both potash and phosphate fertilizer prices have fallen on the back of lower demand and new capacity additions. Emerging markets' growth slowed, while India's government reduced subsidies for the two fertilizers, even as crop prices in the United States soared to record highs in 2012. As we've noted, the new record highs for crop prices were largely driven by worldwide droughts rather than higher demand.
But after falling for about two and a half years, potash prices may have found a bottom, as low inventory levels might drive restocking activities, and low fertilizer prices encouraged producers such as Potash Corp. (POT) to halt new capacity additions. Most managers hold this view.
According to Agrium Inc.'s (AGU) market report, potash prices stood at $401 per tonne and $372 per tonne in the Midwest United States and Saskatchewan, respectively, during the first two weeks of March. Phosphate prices bounced more than 25% since the beginning of the year, as buyers returned to the market on low inventory levels. Supply was also disrupted by transportation issues, as one of the worst winters hit the United States this year, and storms stopped shipments in the North Atlantic.
Weekly price releases
Article continues below advertisement
Recent data from Mosaic Co.'s (MOS) weekly price reports show that average potash prices at the Corn Belt rose from $363 per short ton during the second week of March to $368 per short ton in the third week. Phosphate prices, on the other hand, were a bit mixed—likely because prices have already risen so much and buyers are taking a break. Tight supply might be resolving as weather conditions return to a more normal state.
While higher fertilizer prices would certainly be positive for Intrepid Potash Inc. (IPI), Mosaic (MOS), Potash Corp. (POT), Sociedad Quimica y Minera de Chile ADR (SQM), and the VanEck Vectors Agribusiness ETF's (MOO) revenues and earnings, recent share price movements suggest this has already been priced in, and that expectations of higher fertilizer prices aren't on the table.
To learn more about investing in the potash industry, see the Market Realist series that this series builds on, A key overview of potash industry opportunities.