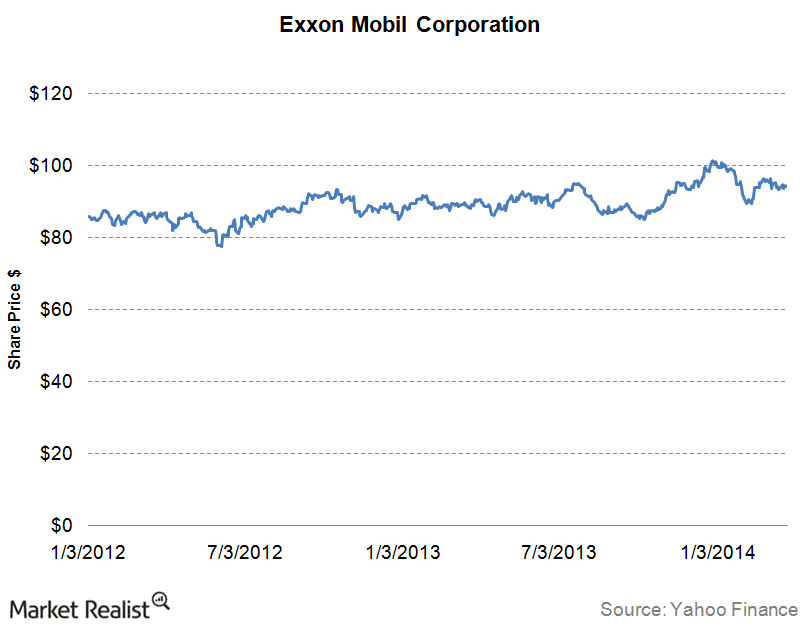 Exxon printed investment-grade bonds for the first time in 21 years
By Sandra Nathanson

Nov. 22 2019, Updated 6:08 a.m. ET
Exxon Mobil Corporation
Oil giant Exxon Mobil Corporation (XOM), a AAA rated company with market capitalization of $408.9 billion tapped the investment-grade corporate bond market (LQD) for the first time in 21 years. Last week, the company issued a five-part $5.5 billion bond consisted of three and five-year fixed and floating rate notes (or FRNs) and a ten-year tranche. The issuance was at tight spread, which means higher investor demand. As per the sources, the deal has been very well received in the market considering Exxon's (XOM) stable credit outlook and healthy balance sheet, which overshadowed the possibility of being dampened by the situation in Ukraine.
Article continues below advertisement
Exxon Mobil Corporation (XOM), the U.S. energy company has one of its biggest operation bases in Ukraine, particularly in Crimea, where the Russian military has entered last month. However, the company's CEO Rex Tillerson made a comment stating, "the unrest in Ukraine at any point had no effect on the company's plans or activities in the area."
The company expects to spend $3.2 billion in Arctic waters north of Siberia and in the Black Sea south of the Ukrainian province of Crimea, which it thinks can turn into billions of barrels of oil in the future and generate triple fold revenues for the company.
Exxon Mobil Corporation debt profile
At present the company has a total debt outstanding of $11.5 billion—representing total debt-to-EBITDA[1. EBITDA stands for Earnings before interest, tax, depreciation and amortization.] ratio of 0.30x—lowest among the industry. The oil and gas industry average for debt-to-EBITDA is 0.82x; major peers including ConocoPhillips (COP) (0.97x), Cenovus Energy, Inc. (CVE) (1.42x), and Imperial Oil Ltd. (IMO) (1.05x) have higher debt-to-EBITDA ratio compared to Exxon Mobil corporation (XOM). Plus, the company's total EBITDA-to-interest coverage ratio is 180.76—an important metric used by market analysts, lenders, and even investors in oil and gas space to assess the company's ability to pay interest on outstanding debt. Higher EBITDA-to-interest coverage ratios imply less risk to the lenders. An oil and gas company should cover its interest and fixed charges by at least a factor of two, or even more ideally, 3:1. If not, then its ability to meet interest payments may be questionable.
Since, oil and gas is a highly capital intensive industry, investors should keep an eye on the company's balance sheet to determine the company's ability to service its debt obligations. High debt levels can put a strain on a company's credit ratings, weakening their ability to meet the operational and financial commitments of the company.
Tight spread
Exxon Mobil's (XOM) five-part $5.5 billion deal was worked out with the tightest spread. Credit spread is the risk premium investors' demand for investing in riskier bonds. The lower the credit rating, the higher would be the credit spread expectations and vice-versa. Generally, the Treasury securities are considered to be the safe heaven. Corporate bonds yield more than Treasury bonds as they carry a risk of default. However, investment-grade bonds are also high-quality assets with credit rating ranges between AAA (the highest) to BBB- (a notch above speculative-grade or junk). So, the credit spreads in the investment-grade bonds are not as high as in riskier high yield bonds (JNK).
When the demand is high, issuers gets the opportunity to squeeze the credit spread and still enjoy high market reception. Other things being constant, an issuer with a high credit rating and goodwill normally has the upper hand in tweaking the credit terms of the issuance.
Corporate profile
Exxon Mobil (XOM) is leading worldwide petroleum and petrochemicals company. The company's operations include exploration and production of oil and gas, electric power generation, coal, and minerals. The company also manufactures and markets lubricants and chemicals.