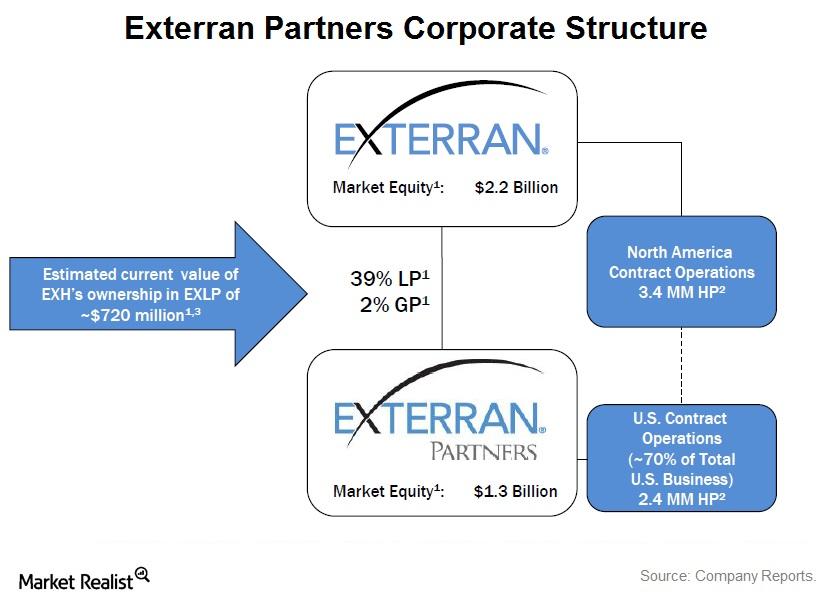 MLP analysis: An investor's guide to Exterran Partners (EXLP)
By Ingrid Pan

Mar. 10 2014, Published 10:18 a.m. ET
Exterran Partners
Exterran Partners, LP (EXLP) is a master limited partnership (or MLP) that provides natural gas compression services in the United States and the largest third-party compression provider, with 2.2 million operating horsepower. The company's general partner, Exterran Holdings (EXH), owns a 2% economic interest in EXLP through its general partner interest and owns a 39% limited partner interest. (Note: the LP interests are the same as the publicly traded units, and public unitholders hold the remaining 59% of the economic interest.) EXLP has a special relationship with its general partner, Exterran Holdings (EXH). Several other midstream companies, such as Access Midstream (ACMP) and Regency Energy (RGP), perform natural gas compression among a suite of other services. Exterran's closest comp is USA Compression Partners (USAC), another pure-play natural gas compression company. These companies affect the Oppenheimer SteelPath MLP Funds Trust (AMLP).
Summary statistics
Article continues below advertisement
The company has a current market cap of ~$1.5 billion and an enterprise value of ~$2.2 billion. LTM December 31, 2013, revenues totaled $466 million, and LTM December 31, 2013, EBITDA totaled $238 million. Distributable cash flow (or DCF) for 2013 totaled $153 million, resulting in a DCF coverage ratio (DCF divided by cash distributions paid out) of 1.36x (which includes the benefit of certain cost caps from parent company Exterran Holdings.
Asset overview
Exterran Partners' main assets are natural gas compressor units, each with a varying amount of horsepower. Investors can view the amount of horsepower the company owns and is putting to work as a proxy for how much natural gas the company is able to compress and is paid to compress. At the end of 2013, EXLP had 5,521 natural gas compressor units, which could generate a total of 2,417,000 of available horsepower. Of these, 2,264,000 were operating, resulting in utilization of 94%.
Distributions
EXLP's current distribution is $0.5325 per unit on a quarterly basis ($2.13 annualized), resulting in a current distribution yield of $2.13 per $30.50 of ~7%. Note that EXLP is currently in the "high splits." This means that its quarterly distribution has reached a certain threshold under which for all incremental distributions paid out—50% goes to common unitholders (that is, the holders of EXLP) and 50% goes to the general partner (EXH). In brief, this means that distribution growth at EXLP to limited partners will generally lag the growth rate of the company, as half the incremental cash is being diverted to the general partner.
Consensus forward EBITDA and EV/EBITDA multiples
EXLP's LTM EBITDA was $238 million and consensus estimates forecast the company's EBITDA to be ~$260 million in 2014 and ~$300 million in 2015. This implies an enterprise value to EBITDA multiple of ~9.2x on an LTM basis, 8.5x for 2014, and 7.3x for 2015.
Continue on to the following parts of this series to read about the natural gas compression industry and to learn in greater detail about EXLP, including recent transactions and 4Q13 earnings.