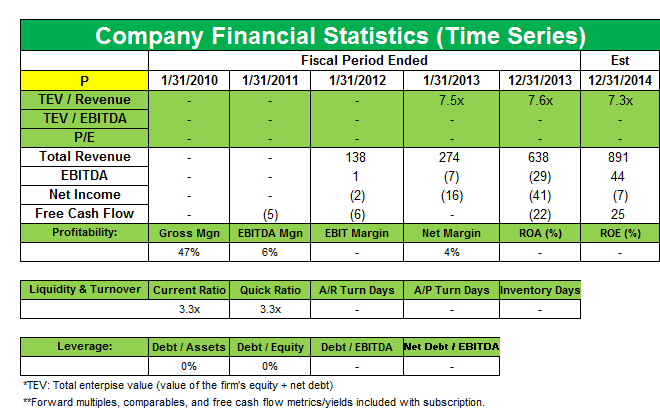 Ricky Sandler's Eminence Capital sells its stake in Pandora Media
By Samantha Nielson

Nov. 20 2020, Updated 2:43 p.m. ET
Eminence Capital and Pandora Media

Eminence Capital initiated new positions in The Men's Wearhouse Inc. (MW), KAR Auction Services Inc. (KAR), Humana Inc. (HUM), and Valmont Industries (VMI). The fund exited its positions in Pandora Media Inc. (P) and Tyco International (TYC).
Eminence Capital exited a position in Pandora Media Inc. (P) that accounted for 2.58% of the fund's 3Q portfolio.
Pandora provides music streaming or Internet radio service in the United States. The company offers a personalized experience via its Music Genome Project for listeners on a wide range of smartphones, tablets, traditional computers, and car audio systems, as well as a range of other Internet-connected devices. The majority of listener hours occur on mobile devices, with the majority of revenue generated from advertising on these devices. As of December 31, 2013, Pandora had more than 200 million registered users, and approximately 175 million registered users accessed Pandora through smartphones and tablets. The streaming service is provided free, supported by advertising, and via the "Pandora One" platform provided to paying subscribers without any external advertising.
Article continues below advertisement
Last week, Market Realist reported that Pandora shares fell after it announced its audience metrics for February, concluding that Pandora's listener hours actually declined from 1.58 billion in January this year to 1.51 billion in February. For more analysis, please read Why has Pandora reported a sequential decline in listener hours?
Pandora's fourth quarter results beat Street estimates. Net income rose to $9 million, or $0.04 per share, from net income of $1.63 million, or $0.01 per share, in the same quarter the year before. Revenue surged 50%, to $200.4 million, from $131.5 million. Advertising revenue was $162.0 million, a 39% year-over-year increase. Total listener hours grew 16%, to 4.54 billion for the calendar fourth quarter of 2013, compared to 3.91 billion for the calendar fourth quarter of 2012. Subscription and other revenue increased to $38.4 million.
Shares fell after Pandora reported a disappointing forecast for 2014. Pandora expects non-GAAP revenue in the range of $170 million to $176 million. Non-GAAP basic and diluted EPS are expected to be between a loss of $0.16 and a loss of $0.14. Management said, "To fully capture the substantial market opportunity ahead of us, we will continue to aggressively invest in 2014 in sustained audience and engagement growth as well as activities that further accelerate monetization."
Article continues below advertisement
Pandora's content costs also include the royalties it pays for the public performance of musical works embodied in the sound recordings it streams. Pandora has obtained public performance licenses from, and pays license fees to, the three major performing rights organizations in the United States, the American Society of Composers, Authors and Publishers (oe ASCAP), Broadcast Music, Inc. (or BMI), and SESAC, Inc. (or SESAC).
A federal judge recently refused to change the royalty rate that Pandora pays songwriters, ruling that for each year from 2011 to 2015, Pandora must pay 1.85% of its revenue to the American Society of Composers, Authors and Publishers (or ASCAP) for the use of its members' music. ASCAP wanted an increase in the rate, while Pandora was seeking a rate of 1.7%. Pandora had filed the lawsuit in November 2012, asking the court to set "reasonable" fees for a licensing agreement with ASCAP through 2015, according to a Bloomberg report. Pandora lost a similar lawsuit with BMI in December of last year.