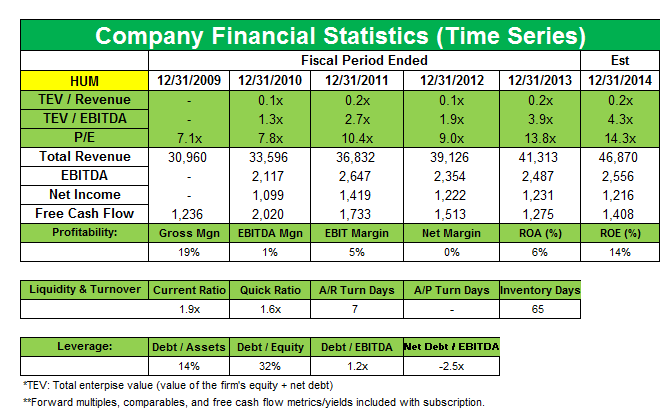 Ricky Sandler's Eminence Capital buys a new stake in Humana
By Samantha Nielson

Mar. 19 2014, Published 1:00 p.m. ET
Eminence Capital and Humana

Eminence Capital initiated new positions in The Men's Wearhouse Inc. (MW), KAR Auction Services Inc. (KAR), Humana Inc. (HUM), and Valmont Industries (VMI). The fund exited its positions in Pandora Media Inc. (P) and Tyco International (TYC).
Eminence Capital started a new position in Humana Inc. (HUM) that accounts for 1.97% of the fund's portfolio. Humana is a healthcare company that offers a wide range of insurance products and health and wellness services.
Article continues below advertisement
As of December 31, 2013, Humana had approximately 12.0 million members in its medical benefit plans, as well as approximately 7.8 million members in its specialty products. In 2013, 75% of Humana's total premiums and services revenue was derived from contracts with the federal government, including 15% derived from its individual Medicare Advantage contracts in Florida with the Centers for Medicare and Medicaid Services, or CMS, under which the company provides health insurance coverage to approximately 415,200 members as of December 31, 2013. Humana manages its business with three reportable segments: retail, employer group, and healthcare services.
Shares surged last month after Humana said in a filing that proposed rate cuts to Medicare Advantage plans weren't as high as expected. Humana said it expects a funding decline for 2015 of 3.5% to 4.0% after projecting a 6% to 7% reduction during its fourth quarter earnings call. Humana had said on its earnings call that during the 2014 annual enrollment period, the industry experienced some disruptions as some of its competitors were forced to lower benefits, exit markets, and adjust provider networks—companies like UnitedHealth Group (UNH), WellPoint (WLP), Aetna (AET) and Cigna (CI). The company had said that the anticipated 2015 rate reduction, combined with the cumulative historical reductions, could potentially oblige Humana to follow its competitors' adverse actions of cutting benefits and exiting markets.
JP Morgan analysts said in a note, "We believe the industry can absorb the proposed 2015 cuts through increased efficiency and benefit reductions while retaining members and economics before returning to secular higher-single-digit growth in 2016 and beyond."
Humana posted a fourth-quarter loss due to a $243 million charge for reserve strengthening in the company's closed block of long-term care insurance policies. The company reported a net loss of $30 million or $0.19 per share, compared to a net income of $192 million or $1.19 per share in the same quarter last year. Revenue increased 7%, to $10.19 billion from $9.56 billion in the same quarter last year, driven by Medicare Advantage membership growth in the company's Retail and Employer group segments. Total premiums and services revenue was also up 7% compared to the prior year's quarter. For 2013, Retail segment pretax income grew 10.5%, primarily driven by individual Medicare Advantage and Medicare standalone PDP membership growth in excess of 7%.