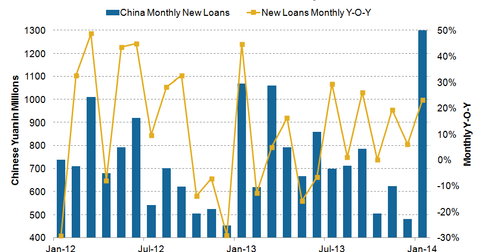 Why dry bulk shippers can benefit from China's record new loans
By Yanyu Mao

Nov. 22 2019, Updated 6:28 a.m. ET
The importance of loans in the economy
Loans play an important role in helping an economy grow by stimulating consumption and investment and creating greater overall demand. In China, capital has primarily been supplied by bank loans. It's crucial to note that almost all major banks in China are state-owned, which gives Beijing significant control over the economy by regulating new loans issuance. So watching for China's monthly new loans will help investors better forecast future demand.
A surge in new loans in January 
Article continues below advertisement
Typically, there's a surge in new loan issuance at the beginning of each year as financial institutions receive new quotas in order to earn more interest. So analyzing new loans data can be tricky—not only in the first few months of the year, but also at the end of a quarter because banks want to make their quarterly financial statements look better.
However, the surge in this year is unusually high. For January, Chinese banks lent 1.32 trillion yuan worth of new loans, compared to 1.07 trillion yuan in January 2013. This figure beats a forecast of 1.1 trillion yuan, and it's well above the 482.5 billion yuan recorded in December 2013. Monthly year-on-year growth in new loans has risen 23.36%, compared to 6.21% in December 2013.
Even though China's central bank has already called for mild growth in lending, January's data was definitely higher than expected, which reflects the difficulty China's central bank has in reining in loan growth. In February, the central bank issued bond repurchase agreements to drain excessive money from the market in order to cool down the lending boom. But as long as new loans don't deteriorate significantly, they could spell a positive for China's economy, the Guggenheim Shipping ETF (SEA) and dry bulk companies like Navios Maritime Partners LP (NMM), Navios Maritime Holdings Inc. (NM), Star Bulker Carriers Corp. (SBLK), and Knightsbridge Tanker Ltd. (VLCCF).
Systemic reform should be on the way  
Article continues below advertisement
Beijing policymakers are facing a dilemma right now. On the one hand, cheap loans are effective in boosting economic growth. On the other hand, the expansion of China's informal banking system has resulted in an unprecedented level of debt obligations in this country. According to Morgan Stanley, China's total private and public debt is now 215% of GDP, which poses a potential risk of an economic bubble to the world economy, owing to its large economic scale.
Systemic reform should be on the way to reduce China's dependence on cheap credit. We're going to see some dramatic changes in China over the next few years, and these changes will be so profound that they can absolutely affect demand for major commodities and the dry bulk shipping industry. Market Realist will keep up with new economic trends in China.