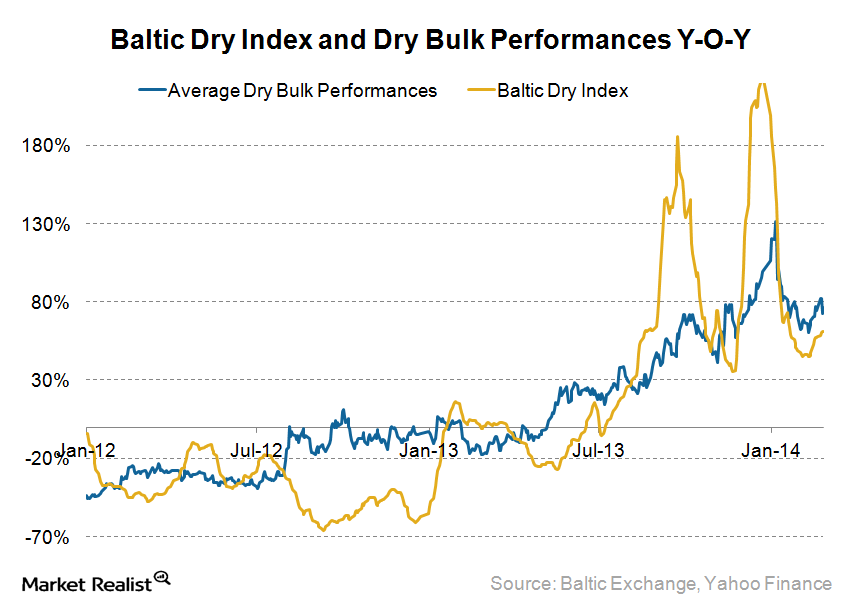 Dry bulk opportunity: The Baltic Dry Index might have bottomed
By Yanyu Mao

Nov. 20 2020, Updated 12:22 p.m. ET
The Baltic Dry Index
The BDI (Baltic Dry Index) is a widely followed metric that reflects the overall rates of moving dry bulk cargoes like iron ore, coal, and grain across water. It's collected daily by the Baltic Exchange, headquartered in London, and it serves as a good benchmark for what dry bulk shippers would earn if they employed their vessels now. Since movement in the Baltic Dry Index reflects the dynamics of demand and supply in dry bulk shipping, dry bulk shipping stock performances are somewhat affected by the BDI.
The Baltic Dry Index might have bottomed 
Article continues below advertisement
Although the Baltic Dry Index has experienced one of the worst starts of the year in January, dropping from 2,113 on January 1 to 1,110 on January 31, it has shown signs of steady recovery in February. As of February 27, this index reached 1,250, which is the highest in the whole month. Despite the rapid drop at the beginning of this year, the BDI recorded an average year-over-year growth of 73.13% for the first two months of 2014. This is major good news for dry bulk shippers, because there could be a positive correlation between dry bulk shippers' year-over-year stock prices and the Baltic Dry Index's year-over-year growth.
Can we now conclude that the Baltic Dry Index has bottomed? Probably. Usually, January is the weakest month for the BDI due to China's low economic activity around the New Year holiday and cold weather in industrial countries, after which this index tends to increase as businesses normalize. The president of Navios Maritime Holdings Inc. comments in the company's Q4 2013 earnings release that the BDI has just bottomed recently, because all signs (including China's growing demand for seaborne iron ore and a good grain harvest in the South) point to increases through the year.
Positive outlook despite net losses in Q4 2013 
Article continues below advertisement
Whereas almost all dry bulk shipping companies who have released their Q4 2013 earnings recorded a net loss for last quarter, there's much more positive market sentiment at present. Seasonality accounted for part of last quarter's loss. The southern hemisphere was in monsoon, which negatively affected Australia and Brazil's iron ore and coal exports. In contrast, the northern hemisphere is going through one of the coldest winters, and that could negatively impact normal manufacturing activity.
As spring is approaching, economic activity will eventually increase and normalize. In their earnings call conferences, dry bulk shippers seem fairly confident in 2014. They believe improved fundamentals are finally going to benefit shipping companies. We can anticipate a brighter future for dry bulk shipping in 2014.
To learn more about investing in the dry bulk shipping industry, see the Market Realist series Must-know overview: 2013 and 2014's key dry bulk shipping events.