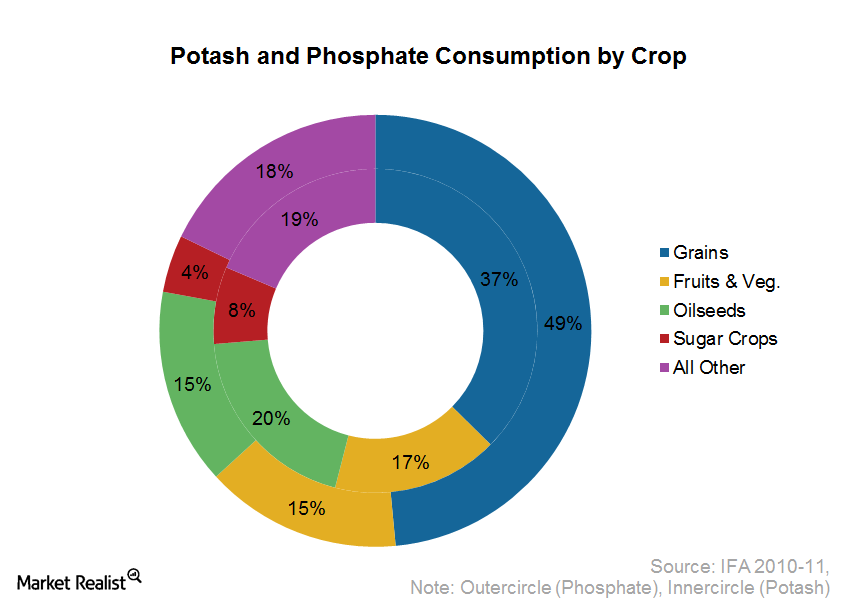 Why are crop prices so important to potash and phosphate stocks?
By Xun Yao Chen

Oct. 29 2019, Updated 6:31 p.m. ET
Crop prices
Crop price is one of the key drivers of fertilizer demand and prices. Globally, potash and phosphate are used for several types of crops, ranging from grains to fruits and vegetables, to oilseeds, to sugar and more. As prices of these crops rise, so should demand and the prices of phosphate and potash fertilizers.
Because grains such as wheat, rice, and maize make up the majority of potash and phosphate consumption, they're perhaps the most important price indicators to look at. However, it's also important to follow developments in other crops because crop prices tend to show a high correlation to each other due to macro factors such as weather and economic growth.
Strong relationship
Article continues below advertisement
Fertilizer stocks such as Mosaic Co. (MOS) and Potash Corp. (POT) have shown a close relationship with the Power Shares DB Agriculture Fund ETF (DBA)—and higher DBA means higher share prices of fertilizer stocks, and vice versa. The DBA is a popular ETF for investors who want to invest in agriculture commodities. At the end of 2013, the DBA had exposure to movements in corn, live cattle, soybeans, sugar, cocoa, coffee, hogs, wheat, and cotton prices.
If the past correlation holds in the future, higher crop prices would have a positive impact on the shares of Potash Corp. (POT), Mosaic Co. (MOS), Intrepid Potash Inc. (IPI), and VanEck Vectors Agribusiness ETF (MOO). The relationship between DBA and MOO is looser because MOO also invests in bioseeds and nitrogen fertilizer producers that are subject to other key drivers. To a lesser extent, movements in corn, wheat, soybeans, and sugar prices would also impact the PowerShares DB Commodity Index, which tracks different commodities.
This series will cover the latest developments in crop prices, particularly grains and oilseeds, and the USDA's outlook for this year.