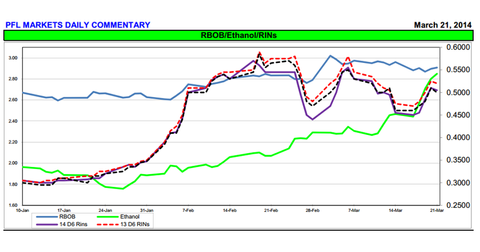 Will a ~100% rise in RIN prices help fertilizer stocks like MOS?
By Xun Yao Chen

Updated
EPA mandate
Given a sluggish outlook for motor gasoline consumption, fuel ethanol consumption would only grow if the EPA (Environmental Protection Agency) decided to keep its initial renewable fuel standard mandate unchanged and encourage greater use and development of motor gasoline with ethanol blends 10% and above.
Both sides of the story
The EPA's decision will most likely be based on politics, as different industries with interest lobby politicians. Oil companies oppose increased blending of ethanol in gasoline because it means lower crude oil demand. Farmers and biofuel producers vie for increased ethanol use on the basis that it creates jobs and is more renewable. The U.S. would also depend less on foreign oil, through which large state-owned oil producers hold significant power over oil prices.
Article continues below advertisement
Oil prices are likely to stay high, because dominant suppliers would adjust production to support prices. But the U.S. energy boom has pushed prices of domestic crude oil lower to international benchmarks. While some claim use of gasoline with more than 10% ethanol will harm engines, the EPA cleared the use of gasoline with 15% ethanol for vehicles from 2001 or newer models in 2011. According to an article in Ethanol Producer magazine, several automakers have been showcasing new models with 15% ethanol capability.
Renewable identification numbers
Investors might get a clue to the EPA's decision by following RIN (renewable identification number) prices, a tool used by the government to ensure hitting targets. If the market expects the U.S. won't be able to blend as much ethanol as the EPA requires, RIN prices would go up. For example, in 2012, higher corn prices resulted in expectation that refiners wouldn't be able to blend as much ethanol as the EPA required. In 2013, 13.8 billion gallons of ethanol was required to blend with gasoline, pushing RIN prices up. But RIN prices fell as rumors got out that the EPA might propose lower requirements for 2014 and beyond.
Since the start of the year, RIN prices have gradually risen. In part, this could be due to expectations of higher ethanol prices caused by temporary production cuts and transportation issues, as we've noted. But RIN prices rose sharply at the start of February, while ethanol prices have moved at a steadier pace. Although RIN prices aren't that high yet and have risen from just $0.30 to $0.55, if this continues, the probability that the EPA won't set blending requirements for corn ethanol in 2014 at 13 billion gallons diminishes.
If RIN prices rise more, investors could expect higher demand for corn and prices, which is one factor that might drive Potash Corp. (POT), Mosaic Co. (MOS), Intrepid Potash Inc. (IPI), the PowerShares DB Agriculture ETF (DBA), and the VanEck Vectors Agribusiness ETF (MOO).